The coronavirus can also be felt by the Greek kiwi industry. One exporter claims sales in China have halted, and they might have to look elsewhere to export their produce to. Possible alternatives come down to other Asian countries, and South Africa.
The kiwi season in Greece was all looking good, but Greek kiwi exporter Zeus was hoping to get a foothold in the Chinese market this season. Unfortunately, the coronavirus has made these plans obsolete, says Christina Manosis, export manager of Zeus. "Currently we're experiencing a 'slow down' in sales towards China due to the Covid-19 virus. We had big plans for this market in the upcoming season, but luckily Zeus has been developing many markets around the globe, making business more flexible and less vulnerable to an unexpected crisis like what we're currently seeing. We have to be able to react promptly since we're dealing with perishables."
Now that China is unavailable, Manosis is executing their strategy on other Asian countries. "Countries like Malaysia and Indonesia are not as important markets for Zeus right now, but more so Asia as a whole. Getting a better foothold in countries like Malaysia, Indonesia, Japan and other Asian countries would be a great back-up plan. Zeus is part of the New Kiwiplant company, which owns the gold kiwi varieties. This golden variety will be heavily marketed in the Asian market as soon as we reach commercial volumes. So the other Asian markets are more of a long term plan."
Zeus recently got a visit from Mr. Theodoros Karaoglou, the Deputy Minister for Macedonia and Thrace. "Mr Karaoglue visited the region of Pieria, visiting two companies in the region, one of which was Zeus. We were very proud and happy to show him our operation." Manosis stated.
Fruit Logistica was a great way to meet these potential new clients, but Manosis felt the exhibition was less crowded than it has been in the past: "I have the impression Fruit Logistica had less people walking around compared to past events. We've been meeting partners and existing clients mainly. So it mainly preserved our clientele, rather than creating new opportunities. However we're confident we'll be able to expand into these Asian markets relatively soon."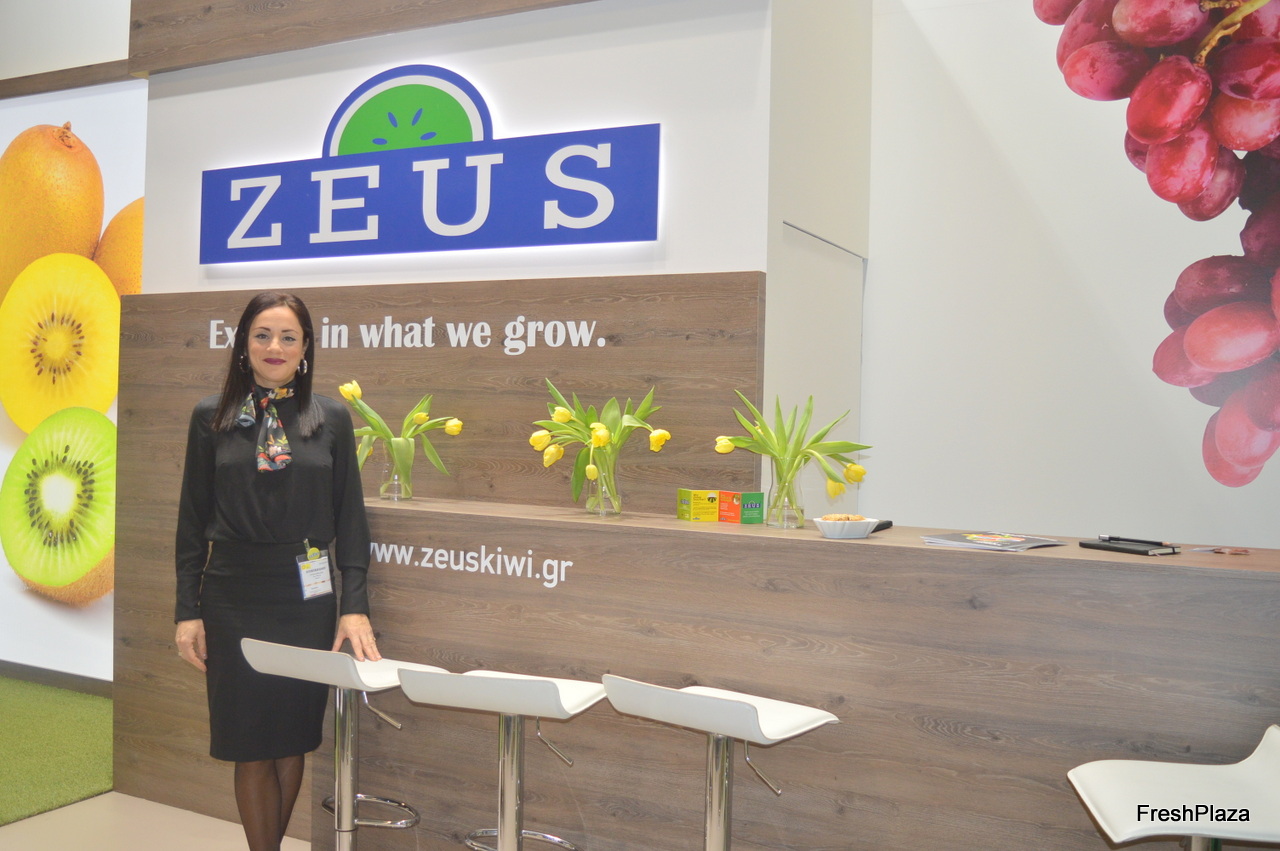 For more information:
Christina Manosis
Zeus Kiwi S.A.
Tel. +30 2351 053559
Dir. Line +30 2351 045395
Mob. +30 697 2822 075
Email: christinam@zeuskiwi.gr 
www.zeuskiwi.gr