During the Fruit Logistica trade fair in Berlin, Turkish exporter Alanar announced a partnership with a Peruvian grower. This partnership should result in Alanar being able to supply the world with figs all year round, something no other fig exporter has been able to do until now.
Alanar is a Turkish fresh fruit exporting company that focuses on figs, pomegranates and cherries amongst other produce. The Turkish Black Bursa figs have been going well for the company, that sought out to expand its business: "During Fruit Attraction in Madrid, we met these Peruvian growers and things started on the right track," says Yavuz Taner, Chairman of the board of Alanar. "Our goal is to have a global marketing cooperation; we will be the first company to supply top quality figs all year round. The Peruvian figs are not Black Bursa figs, like the ones Alanar cultivates in Turkey. The Peruvian figs are slightly smaller in size, however their quality is what we demand from the Alanar brand."
From left to right: Yavuz Taner, Chairman of the Board of Alanar - Emrah Ince, General Manager of Tekfen Agri - Alfredo Quispe, President of the grower company - Murat Gigin, Chairman of the Board Tekfen Holding - Ricardo Gómez, Commercial Manager of the grower company.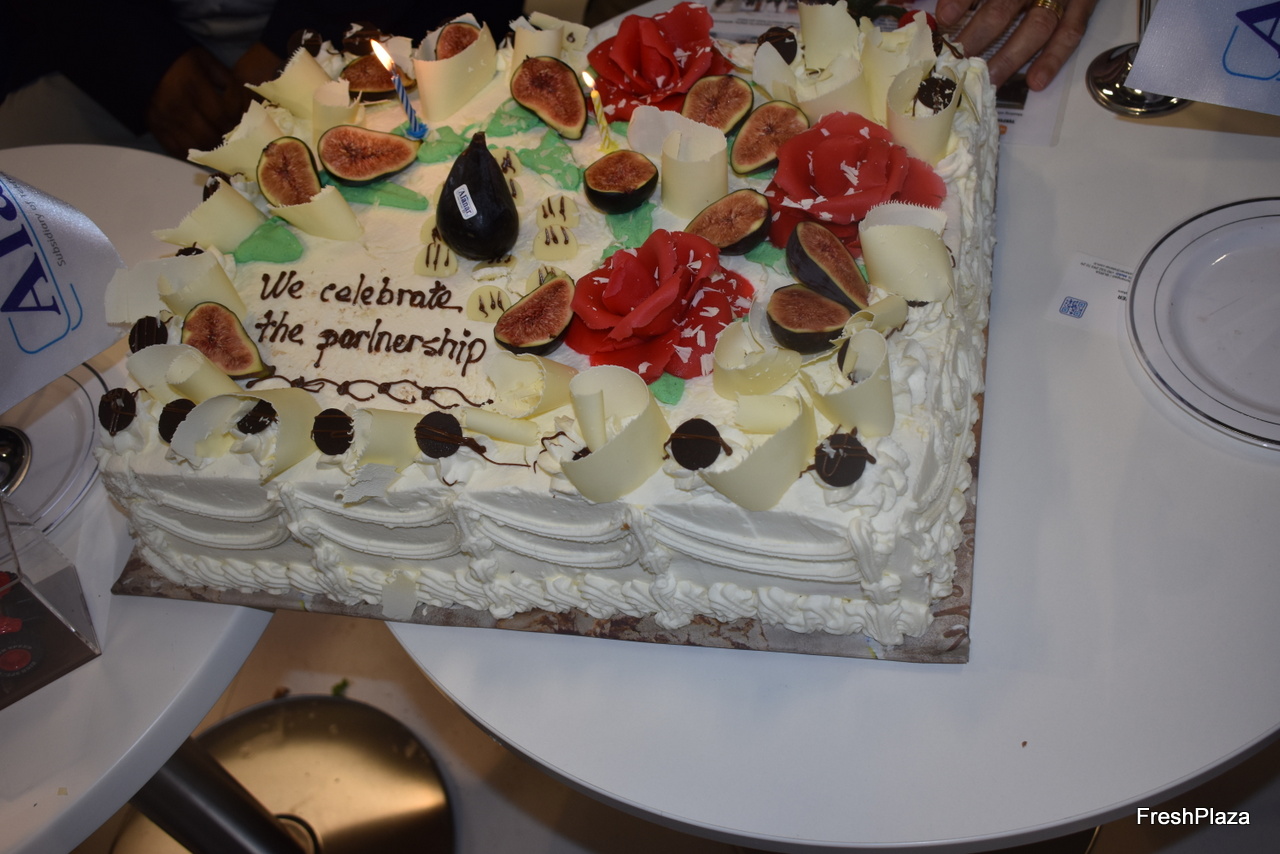 The partnership was celebrated with a massive cake, decorated with figs.
The cooperation means some investments from both sides. For one, the Peruvian grower is adding about 60 new hectares to its already existing 40 hectares of land. "We will also invite the Peruvian growers to Turkey, to see how we work," explains Emrah Ince, Chairman of the board of Tekfen Agri. "This will allow us to improve the quality of the Peruvian figs even more. Alanar will also provide packing and sorting techniques, to make sure our clients will get what they've come to expect from Alanar produce. To accomplish this, we'll send some of our technicians to Peru to help train them. Currently the Peruvian growers only send their figs by airfreight, but we've ran some tests and they are now capable to send their figs by sea as well. We sent a batch to Rotterdam and the results were very pleasing."
Yavuz Taner, Chairman of the Board of Alanar, cuts the cake
The Peruvian grower cultivates around 500 tons of figs annually at the moment, the idea is to increase the volume to around 2000 tons every year within two to three years. "We currently have 40 big clients coming from 25 countries, these countries include India, Ukraine and some South American countries. The idea is to invest together in this cooperation and grow even larger. But first, let's make sure our plans with our current clients are met with satisfaction. We like to walk the walk before we talk, so it's up to us to prove our abilities. We currently don't see any huge challenges, but when they come up we'll simply have to overcome them." says Taner.
Top Row: Nigel West, Emrah Ince, Efe Yedibaslar, Yigit Gokyigit
Below Row: Yavuz Taner, Alfredo Quispe, Murat Gigin, Ricardo Gómez, Nick Peters
The figs companies will have different seasons, so there will be no competition between the two types of figs. "Currently the contract lasts until the end of the season, but we expect this period to go by satisfactory, which will then turn the contract into a five year plan," says Mr. Ince. "We are ambitious though and hope this cooperation will result in many other products to be cultivated year round. If the figs go well, there might be room for pomegranates, which are very successful in Turkey. That season only lasts five months, so extending availability by growing them in Peru would be fantastic. But it also works the other way around, as Peru grows quality blueberries. There might be opportunities to grow these blueberries in Turkey as well, but it would require help from our new partners."
The proud Alanar team celebrates the new project!
For more information:
Efe Yedibaslar
Alanar
Tel: +90 533 478 5521
Email: Efe.yedibaslar@alanar.com.tr 
www.alanar.com.tr