"We're currently fully focused on bringing in the onion harvest," Mike de Koster of the Dutch company WDK Onions told us last week. "The last time it started raining, we thought it would be okay. But then it kept on and rained a lot." If all went well, they would have gotten all the onions off the land by Friday evening, before the rain.
"That requires quite creative solutions because few trucks are available, making planning rather tricky." Though the onions that came in after the rain do show some color differences from those brought in earlier, the sorter is satisfied with the onions' quality. "There are a few batches with fusarium, but overall the quality is good. However, there are vast differences in yields. In the south, that varies from 35 to 70 tons per hectare," Mike says.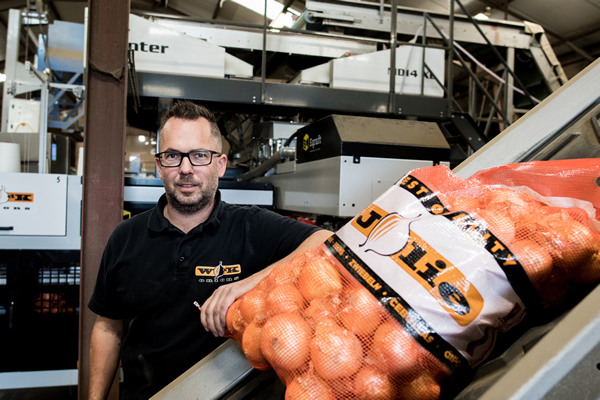 "Demand feels somewhat calmer at the moment. That may also be because everyone's busy bringing in the harvest, but exports also seem to be slowing down a little. Africa leads the way during this part of the season, and things got off to a good start. Since the local produce was running out, that market was empty. The African importers could make a little profit, too, so the payments also came in well. That market is becoming a bit saturated now; then those margins get smaller, slowing down the payments."
"Bale prices are still stable, though they're starting to slowly trend downward. That makes things harder; the margins between grower and export prices shrink too much. That makes trading far more difficult while we must keep steaming ahead because we need to send volumes between now and Christmas," Mike concludes.
For more information:
Mike de Koster
WDK Onions
39 Langeweegje
4434 NC, Kwadendamme, NL
Tel: +31 (0) 113 644 270
Mob: +31 (0) 648 380 272
Email: info@wdk-onions.nl  
Website: www.wdk-onions.nl