The pomegranate campaign has started in recent days in Elche, which is traditionally the main producing area in Spain. It is expected that the volumes of the most representative varieties of the area, such as the Mollar de Elche and the Valenciana, will fall by 30% compared to their productive potential. In general, there will be a predominance of small sizes due to the impact of the drought.
"At the moment, we are harvesting the first Acco pomegranates, for which there is a normal production, perhaps somewhat greater due to the entry into production of young plantations, although with calibers that are smaller than usual for this variety," said Susi Bonet, a sales representative of the Cambayas Cooperative, based in Elche. "There is a lot of demand for large sizes, but this year it is difficult to get them. We also hope to be able to put all the fruit on the market," she added.
Next week, the first pomegranates of the Valenciana variety will start to be harvested. These have a pale skin and pink arils, and a sweet flavor. Then it will be time for the traditional Mollar de Elche, which will be harvested in October. "For both varieties, volumes are expected to be around 30% lower than usual, due to the impact of the abundant rains recorded in the months of March and April, which took a toll on the flowering. The consequence of the heat waves will be a predominance of smaller sizes this year," said Susi Bonet. 
This very week, the cooperative has carried out the last fig sales and, although these have also dropped in terms of size, "it has still been possible to sell with good prices," she said.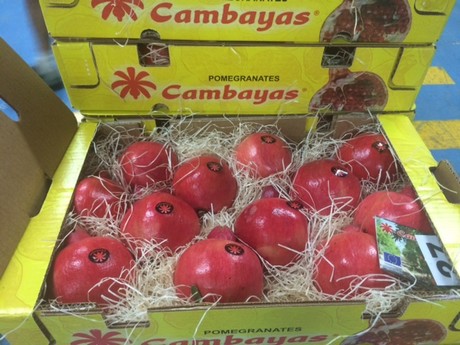 The first Acco pomegranates are being well received in the market, according to the cooperative's salesperson. "There is a relatively empty market for summer fruit, and consumers are craving pomegranates. There are still leftover Peruvian pomegranates in the markets, but they are not a big competitor. Sales should pick up next week, when there will start to be more availability of fruit. This time of the year, when the summer is ending, is usually a weird one."
In addition to the varieties mentioned, Cambayas also grows a small volume of the Wonderful variety. In total, the cooperative produces around 17,000 tons of pomegranates, which are distributed mainly in the domestic market and the rest of Europe, with some exports to third countries such as Canada and the United Arab Emirates.
"This campaign it will be difficult to pass 100% of the cost increases we are having in the production, handling and transport of the product on to the selling prices. Besides, I don't think that consumers, who are also suffering the impact of inflation, will easily accept a sudden price increase," warned Susi Bonet. 
For more information:
Susi Bonet
CAMBAYAS COOP.V
T +34 966637588
susi@cambayas.com
www.cambayas.com