The Israeli herb season has begun and "all herb varieties are available again. The market is still somewhat difficult as the warm weather in Europe has resulted in a larger local production. We do, however, expect the market to immediately improve when the weather gets colder. We usually see a peak around Christmas time, so we try to produce sufficient amounts", says Ayelet Lantzer of Adafresh.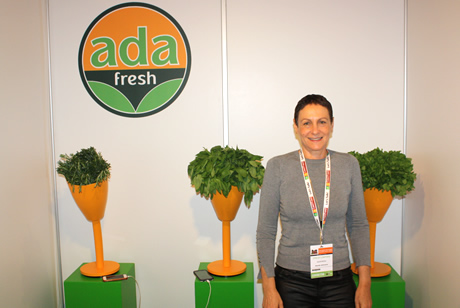 According to this Marketing Director, in Israel basil production, in particular, has increased. There is also a good volume available. Edible flowers are also becoming more popular. "This remains a niche market, but certainly one that is showing a strong upward trend. An increasing number of supermarkets and restaurants are using these edible flowers", said Ayelet at the Amsterdam Produce Show.
Adafresh has a distribution centre in Maasdijk, which is running to their satisfaction, according to Ayelet. "It helps us serve our Western European customers faster and better. It enables us to fill last-minute orders. Europe is, by far, our biggest market. We also still supply herbs to Russia, but not on a large scale."
Besides its Israeli cultivation, Adafresh also grows herbs in Kenya, as part of their risk distribution strategy. Greenhouse cultivation is done in both countries. "As soon as there is lower production in one country, we always have a back-up. This means we are able to meet our customers' demands at all times", concludes Ayelet.
For more information:
Ayelet Lantzer
Adafresh
Israel
Tel: +972 73 233 2200
ayelet@adafresh.co.il
www.adafresh.co.il