Every day at midnight, in the warehouse of the Düsseldorf wholesaler Konrad Koester the bright lights are turned on. They shine until 6 o'clock, when the sun rises, so that the employees barely notice that they are working at night. The unique service provider strives for well-being, both for his staff and his clientele. Apart from the lighting, Koester also has relaxation rooms and art works in his hall. "We make sure all contact is good, so that the customer feels safe and relaxed. Each customer buys from the one person he feels comfortable with."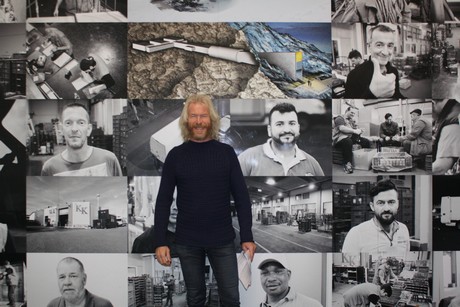 Koester in his decorated cold storage

The hall of wholesale Konrad Koester looks completely different to those of his colleagues. The product ranges and vehicles are there, but otherwise there are hardly any similarities. The warehouse is modern, bright and above all: decorated. The boss proudly shows us the cold rooms, were the walls are decorated with pictures and paintings. "It's meant for both employees and customers: they can unwind a bit when they come in here. That is, they can leave the hustle and bustle behind: factors such as lighting and art have a good effect on people," says Koester. In his office upstairs he shows us a picture of two swans: "They mate for life. We want this kind of continuity with our customers."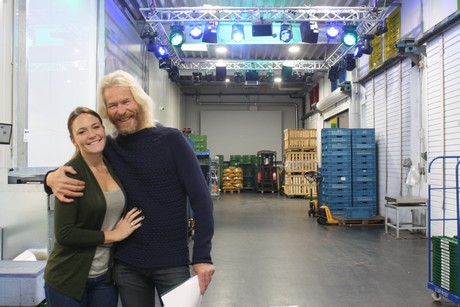 Koester and his daughter Sarah in the central warehouse


Last year, Koester and his 32 employees moved into the hall and decided to completely change the new company. He gave an artist the order to spice up the cold rooms and the office and to 'give the company a soul'. 
Koester: "The working hours and hustle and bustle in this industry are pretty bad. So it's my responsibility to make you feel good." At present, the wholesaler also expects complete reliability from his staff. "My clients know that we always look each other in the eye. On the other hand, as a boss, I also have to do my part. Sometimes I need to keep some distance between my employees and myself."

Essence of life
Anyone who sees a wholesale firm like this, would not expect that Koester had to start from scratch. "In the beginning I had no capital at all and could only buy from Hanomag or Hippybus. All the traders laughed and one even said: 'If you go on like this, you will not last long'." Despite everything, Koester lasted, although he became very ill at the age of 42 and had to have back surgery. "Everything I was doing up till then was suddenly meaningless. It opened my eyes: I do not accept cocky behaviour anymore. The base is simply the essence of life."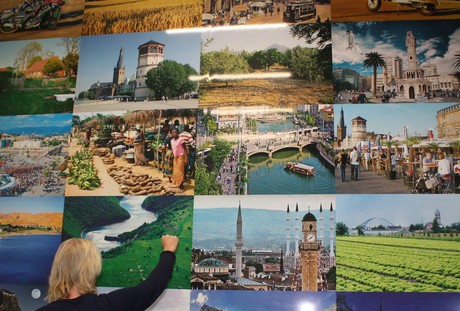 Koester shows a wall with pictures from all over the world


Some 13 years after this disastrous change Koester is still there: relatively healthy and successful. That certainly has to do with his staff, a healthy mix of young and experienced employees. His daughter Sara, for example, is also involved. "Long-established people like me are bound to become more rigid in the long run: that's why I need the feedback from critical, young people." The hall has various facilities so that its staff can rest. Apart from a relaxation room with a massage apparatus, Koester even has a bedroom installed. "My foreman takes a quick 10-20 minutes nap here every morning to recharge his batteries."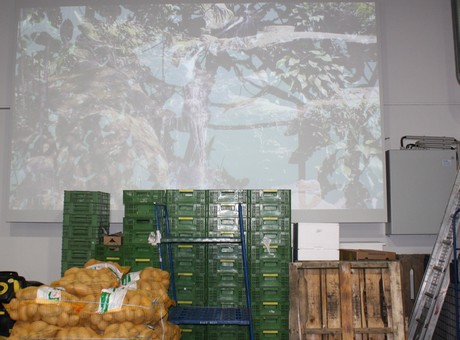 Watching a movie while working: in the warehouse of the wholesaler it is possible


Service company
The Konrad Koester Fruchtgroßhandel has been present on the Düsseldorf wholesale market since 1988. The wholesaler is a complete service company and offers, in addition to raw produce, ready-to-cook products, processed potatoes and vegetable mixes. Koester's clientele extends to catering establishments and retail trades in the Ruhr area and Münsterland.
For more information:
Konrad Koester - Fruchtgroßhandel GmbH
Großmarkt | Halle 8
40468 Düsseldorf
t +49 211 4155773