The Italian delegation that took part in Mac Fruit Attraction China also visited the local Shanghai market. "There are kiwis from Greece, cherries from Chile, citrus fruit from Australia, pineapples from the Philippines and apples from the US. But there is no trace of kiwis or citrus fruit from Italy. An operator even confirmed that he has never seen Italian fruit being sold there."
Click here for the photos!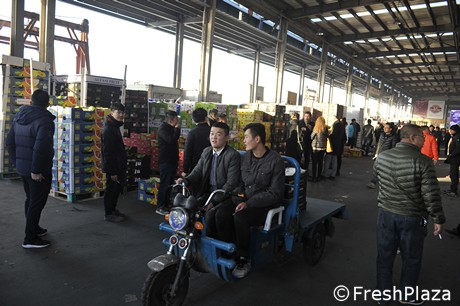 The market
Of course, a metropolis with 24 million people has many supply areas. This market is one of the main ones and is entirely dedicated to imported fresh produce of a very high quality.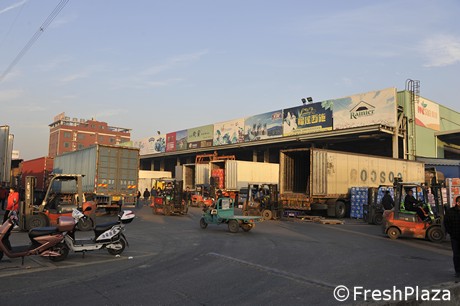 Exterior of the Shanghai market
We had a chance to discuss the prices directly with wholesalers. A 5 kg box of Chilean cherries cost 600 Renminbi, i.e. €90 (equivalent to €18/kg). The produce was transported by air otherwise, by ship, the price would have dropped to €12/kg.
Click here for the photos!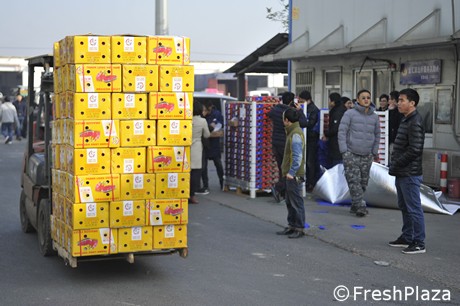 Table grapes from California were sold in 8 kg packets at €35/box. Greek kiwis cost 130 Renminbu per 3 kg box, meaning the price per kg was approximately €5. Single fruits will be sold at €1 in supermarkets.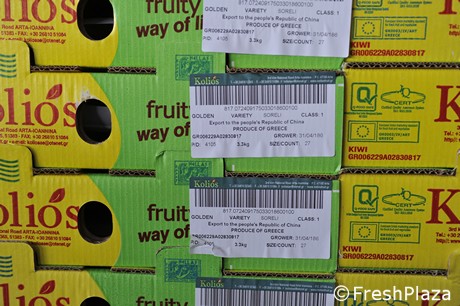 Greek kiwis
3.5 kg plum boxes were sold at 100 Renminbi, i.e. €4/kg. Operators agreed on the fact that quotations are not very high at the moment, but they are not too bad either. They will increase in February due to the Chinese New Year.
Click here for the photos!