February is a big month for those working in the fruit industry, as Fruit Logistica came to Berlin once again, on the 6th, 7th and 8th of February. Armed with camera, pen and notepad, the editors of AGF.nl and FreshPlaza combed the halls and systematically took pictures of all exhibitors for the annual
photo report
. The three trade-fair for 2017 could be summarised by three trends: health, convenience and sustainability.
Despite the start of the trade fair being hit with and
airport strike
, which affected the attendance on Wednesday morning, the relatively empty aisles were transformed into huge crowds by the afternoon, with Fruit Logistica reporting a 5% increase in number of visitors and more than 3,100 exhibitors.
Month of innovations
Fruit Logistica is seen by many as a great opportunity for company's to announce and showcase their new innovations. Before the event, German company Food Freshly gave visitors the opportunity to see the
O Plus Ultra-7 packaging
, a nature-based freshness retainer for bananas that is making fresh-sliced banana snacks a reality.
British based Westpak announced the development of
snack tubes for blueberries
, which they have also launched in similar formats for cherries, physalis and dates. According to Seth Hicks from Westpak; "This new presentation has two advantages: its labelling is perfectly readable and, moreover, the fruit is visible. It's an attractive packaging format that catches the customer's eye and is very comfortable to carry with you."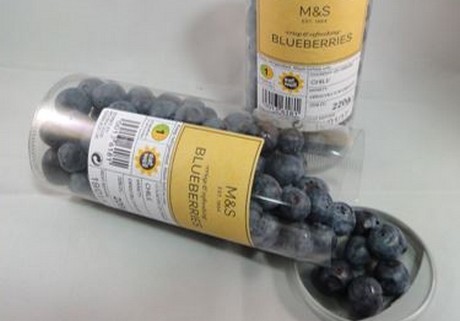 The Chinese New Year takes place in February and the demand for luxury boxes and specialty packaging for gift giving remains a popular part of the celebration. A cherry packhouse from New Zealand said they were surprised at the demand from China for their
luxury box of cherries
, selling the box for $100, or $2 per cherry. 
Packaging wasn't the only innovation in the news. Fraunhofer research announced that they have developed a way to check an apple for chemical residues with a smart phone.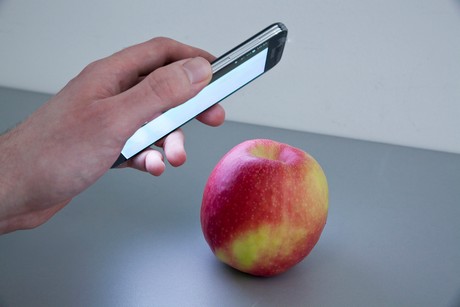 With the '
HawkSpex mobile
' application created by Fraunhofer Institute for Factory Operation and Automation IFF in Magdeburg, consumers will have the opportunity to open their app, aim the camera at the object, for instance an apple, and get the relevant information, for instance if there is any chemical residue on the apple.
Rain caused problems for California growers
After being plagued with drought, growers were hit with record rains in California back in February. 
"We've had four to five months of drought and now we're kind of all
caught up in about six weeks
. We're hoping when the rain stops it will stop (for good) and we've had great snow pack this year so that's going to help going into the summer not just for citrus but grapes and other crops." exclaimed Linda Cunningham from Classic Harvest Produce.
Along with mandarins and
oranges
, the rains also put a damper on the
lemon harvest
, with conditions being so wet, that crews were unable to go out in the orchards to pick the lemons.
The situation wasn't much better for Florida citrus growers who reported that
grapefruit supplies were tight
because of citrus greening disease and growers making room for the new easy-peel varieties.
Big news in February
Wo
nderful Citrus, a mandarin company which sells under the brand Wonderful Halos, announced at the beginning of the month, that they had 
purchased Florida's largest citrus marketer and exporter
, DNE World Fruit.
Th

e EU gave the
greenlight
to Japanese company Sumitomo for the takeover of Fyffes, to the tune of 751 million. The takeover was
finalised
just a little over a week later by the Irish high court, and it was no longer possible to buy shares in the company.