There is considerable diversity in fruit shape among persimmons. Although it is one of the most important characteristics when it comes to quality, quantitative characterising remains difficult.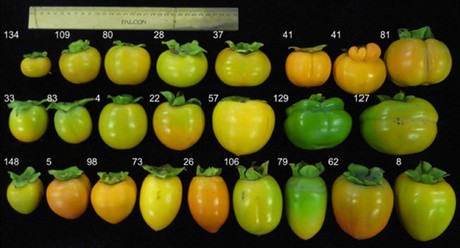 Fruit shapes of different persimmon cultivars.
Researchers from the University of Kyoto (Japan) have developed a reliable method to quantitatively characterise persimmon fruit shapes and to clarify fruit development patterns as well as their relationship to the shape of other organs across cultivars. 
For the study, researchers used 153 cultivars and two wild Diospyros relatives. They then assessed two-dimensional pictures of longitudinal and cross fruit sections with elliptical Fourier descriptors (EFDs) and the SHAPE programme.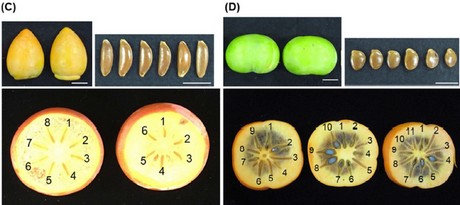 C) Fudegaki fruits have six locules and produce oblong seed; D) Onihei fruits have over eight locules and produce flat seeds.
"In this study, we have quantitatively assessed the fruit shape of 153 persimmon cultivars with a different genetic background. A quantitative analysis of the main component explaining shape diversity revealed shape development models. We observed a coordinated development in the different cultivars, especially longitude-wise. In addition, shape tendencies were mainly determined during the initial phases."

"The characterisation also revealed a clear association between fruit and seed shape. The most effective use of this quantitative evaluation entails association tests with environmental or genetic quantitative parameters that include temperature or gene expression patterns. Future studies will have to analyse the expression patterns of the entire genome. This will help clarify the molecular mechanisms that influence fruit shape and that may have implications in the attempts to artificially control this important characteristic."

Source: Haruka Maedaa, Takashi Akagia, Ryutaro Taoa, 'Quantitative characterization of fruit shape and its differentiation pattern in diverse persimmon (Diospyros kaki) cultivars', 2018, Scientia Horticulturae, Vol. 228, pag. 41–48.