Bananas are Leon Van Parys' most important fresh product. This company is a subsidiary of Bonita Europe. Although this variety of fruit from South America is inextricably linked to the business, Bonita Europe wants to shift its focus more towards exotic fruit.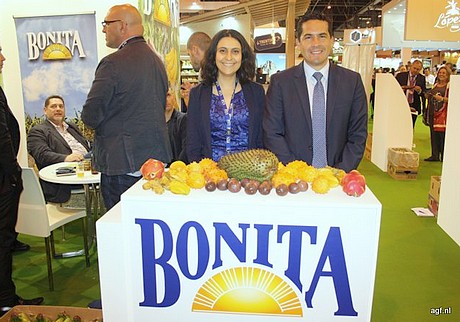 Mariem Baki and Omar Salame of Bonita. In front of them, on the table, are the exotic products that the company wants to focus on in the future.
"Although bananas are our main product, we also intend to bring other products from Latin America to the European market", says Bonita Europe's Sales Manager, Mariem Baki. "We want to focus on the well-known, as well as the lesser-known varieties of exotic fruit. These include passionfruit, physalis, pitahaya, as well as soursop. We will get these from Colombia, Costa Rica or Ecuador. Our bananas come from Costa Rica and Ecuador.
Worldwide
Once a week, the company ships the South American fruit to Antwerp, Bremerhaven, Civitavecchia, Rijeka, and Thessaloniki. From here the fruit is distributed throughout Europe. Although Bonita's primary focus in on Europe, they also export to other parts of the world. "We export bananas to New Zealand, the United States, and Chile too", continues Mariem. "We are shippers, importers, and marketers. We do not have ripening rooms. The fruit is bought at the various ports by ripeners, supermarkets or wholesalers, who ripen the bananas in their own ripening rooms."
Packaging requirements
Mariem has noticed that Bonita Europe's customers have increasingly different requirements when it comes to the amount of fruit in a box, and what is printed on the box. Things are changing in the countries of origin, in particular, according to Mariem "At first our standard boxes contained 18 kg, but more and more often one customer wants 17 kg, the other 18 or 15 kg. It is not only the amount per box that is changing. An increasing number of customers want the packaging to be ready before the product ships to Europe. This is in order to limit handling at the shops. The boxes of bananas arrive at the harbour, and can then get to the customers' ripening rooms as soon as possible."
The boxes are increasingly being printed in the land of origin. "Everyone wants a something different printed on the box", Mariem continues. "Another trend is that the bananas, themselves, are sold in less and less packaging, in order to reduce waste. It sometimes makes planning difficult when each customer has their own demands. This also increases the bananas' production costs. Everyone has such specific requirements, whether it be about the boxes, the amount of bananas, or the plastic in which the fruit is wrapped." Another trend they see is that the fruit that is produced needs to have various social and environmental certifications.
For more information:
Bonita Europe
3 Zeevaartstraat
2000 Antwerpen (België)
T: +32 (0)3 304 02 42
F: +32 (0)3 234 28 15