On the grounds of the
Frischezentrum
in the city of Essen you can feel the atmosphere of solidarity and unity. Some companies are being run by second or third generation retailer families. And although quality and value for money are the most important criterion, customer friendliness and long-term business relationships are also playing a big part.
"Essen is important to us" has been the center's ambiguous motto for several years now (
Essen
in German also means 'food') The motto applies to the city of Essen as well as to the full range of food stuffs that is available in the fresh produce center. With a total area of approximately 95.000 square meters, the Fresh Center is in the mid-range of German wholesale markets. That being said, the market is extremely popular with very many wholesalers. "There still are many applications from retailers for rental space. Unfortunately we can not serve them all. At the moment we are just fully let," says Miss Hack, a member of the wholesale market administration team.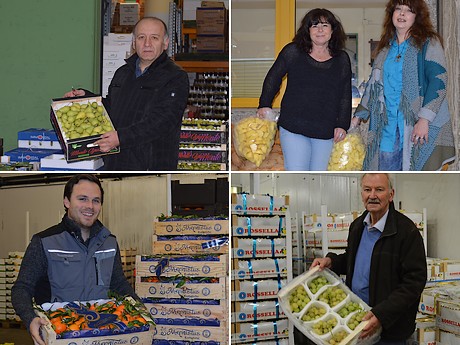 An impression of the Fresh Center: Satilmis Koymatli (top left), Silke Liersch and her assistant (top right), Johannes Buschhütter (bottom left) and Wilfried Schenk (bottom right)


For more pictures, click here
Future growth
Many of the sales areas are being run by second or even third generation retailers such as Silke Liersch, daughter of the potato specialist Manfred Liersch, and Johannes Buschhüter, who has taken over the fruit and vegetable trade of his parents together with his brother. On site there are also three Turkish dealerships which are also run by their owners. Not for nothing one of these dealerships is called Elele, which means 'hand in hand'. However, there is also concern about growth in the future, as Wilfried Schenk - at 73, truly a veteran amongst the many retailers - stresses.
The future not only depends on succession within wholesaler companies, but also on their customers. For this reason, the wholesale market companies are focusing not only on the weekly markets and retail in general, but also on catering and canteen kitchens. Hack: "We put out advertisements in regional magazines and are regularly present at the local fair called 'Markt Mobil'. It is important to make the people aware that there are weekly markets." The inter-company marketing measures are there to promote the importance of the Fresh Center.

Expansion
The wholesale market has been located on this particular site since 1981. Since then, together with the private slaughterhouse and the 'Frisch-Markt' guild, it has become one of the three pillars of Fresh Center Essen. The cooperation of the wholesalers and the presentation of the Fresh Center to the outside world are the foundation of Essen's success.
Over the years, a point of sale for market and retail equipment was established in the Fresh Center, as well as a central collection point for recyclable and residual materials. Accordingly, Hack is quite hopeful about even more positive developments: "We are heading into the future with a clear conscience."

For more pictures, click here

For more information:
Frischezentrum Essen GmbH
Geschäftsführer: Rolf Strobel
Lützowstraße 10, 45141 Essen
Phone (0201) 32000 – 10
Email: info@fze.de
www.fze.de