Climate change and geopolitical situations are creating challenges for many product groups, including soft fruit. These challenges took center stage yesterday at the Global Berry Congress 2022 in Rotterdam, the Netherlands. The event's -  organized by Fruitnet - broad international audience addressed these challenges and resulting opportunities, like creating value by targeting different varieties. Topics such as sustainability, packaging solutions, and automation were also discussed.
Click here for the Global Berry Congress 2022 photo report.
Like the previous International Strawberry Congress, Rabobank's Cindy van Rijswick opened the event with an overview of the soft fruit market and look to its future. She made it clear that, in the short term, this product group faces challenges. "In the long term, the strawberry, blueberry, and blackberry markets should generally be stable, with a slight increase in consumption. The seasons, however, are somewhat volatile. The blackberry market remains a niche market. A year of higher or lower volumes greatly affects those prices," she began.
"Plus, this fruit is highly income-dependent. When that's affected, there are the first berries people stop buying. Also, strawberries face the familiar greenhouse cultivation problems in Northern Europe while all prices are rising. Demand should compensate for that, but, unfortunately, this season, that's not the case." Though it's a generally "bad news story," soft fruit has a bright future. "In the long run, demand will hold up, and, on the cultivation side, the focus will gradually shift from volumes to quality, thanks to 'better with less,'" Cindy explained.

Panel discussion with Jose Gandia (SAT Royal), Lisette Holmberg (ICA), and Jonathan Lock (M&S) moderated by Fruitnet's Mike Knowles.
Here and everywhere else, promotions remain crucial. "These are some of the healthiest products in the world. That, along with flavor, boosts sales, but that should perhaps be promoted more," reasons Lisette Holmberg of ICA. "However, conveying this is challenging. Antioxidants aren't a 'cool' idea. Maybe we should compare that more too, say, chocolate or candy's downside."
These specialists think the government has a role to play a role. Regulations such as taxes on unhealthy products or no taxes on fruits and vegetables are important sales-boosting measures. "There are so many obese children, so getting the story across to families is vital. You have to start early with children," Jonathan Lock of Marks & Spencer added.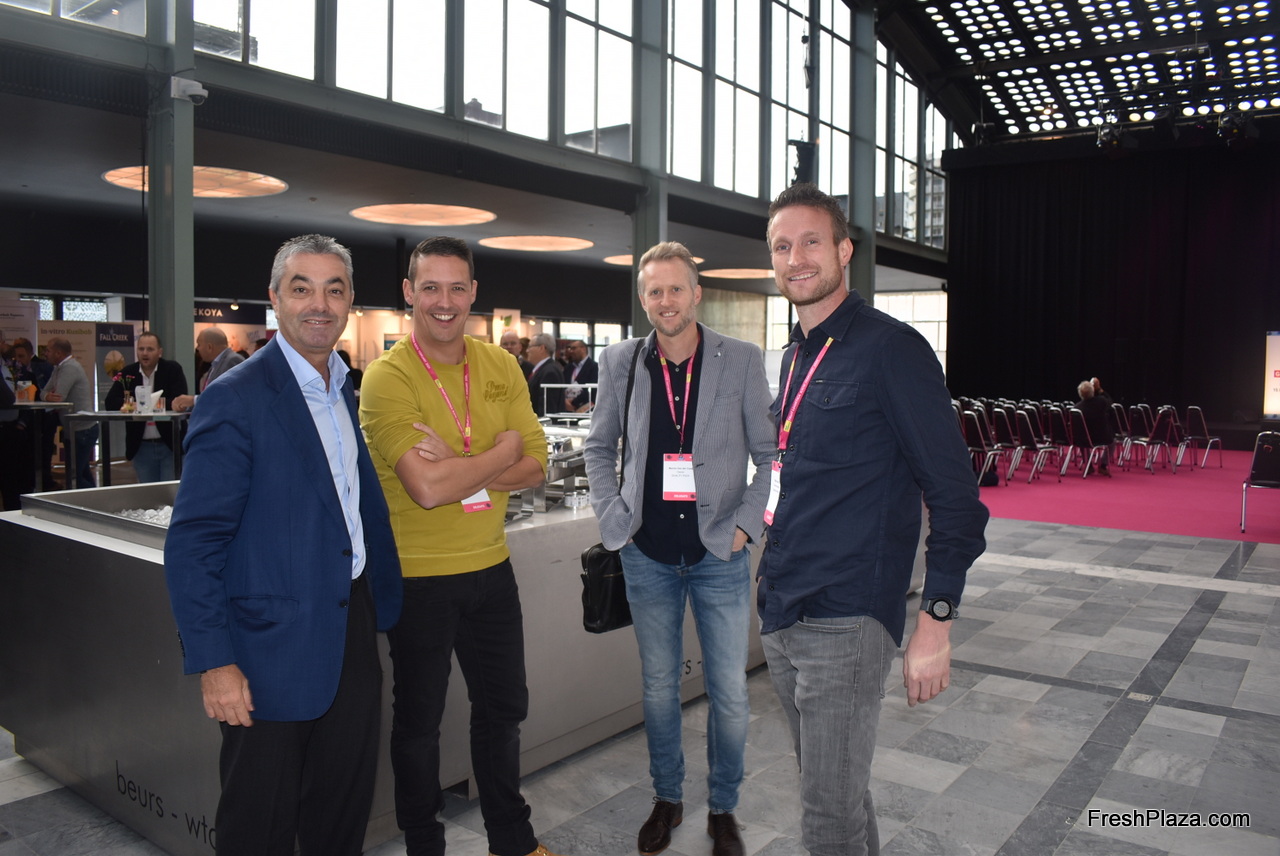 Javier Rico Pedrazo of Euroberry Marketing, Noud Linssen of Berrybrothers, Marnix van de Caaij of Quality Pack, and Nijs van Zuilen of Berrybrothers.
Next, Nico Broersen of Agriplace and Bas Groeneweg of PerfoTec talked about sustainability. Nico discussed the Agriplace farm and Agriplace chain platforms. Quick access to all information throughout the chain means sustainability risks can be located and addressed. "Most legislation targets agricultural companies regarding climate and human rights violations. Companies must identify these risks quickly."
Bas elaborated on its new pallet system that extends soft fruits' shelf life. "With this automatic solution, PerfoTec can extend strawberries' shelf life by two to eight days (depending on the variety). Raspberries last for two days longer, and for blueberries, two weeks. At first, I wasn't a fan of these pallets at all, but now, I, too, am completely convinced," an enthusiastic Bas said.
Click here for the Global Berry Congress 2022 photo report.
Quality, too, is becoming increasingly important to retailers and consumers. However, as costs keep rising, ensuring this is not always easy. "After all, consumers want everything; taste, aesthetics, and aroma. Even now, these remain important," said José Gandia of SAT Royal. "Retailers and traders will have to keep meeting these demands. Perhaps people will spend less, but certainly, in soft fruit, quality remains No. 1."
"You must then take care to retain shoppers. Here, communication is key in ensuring they return even after these crises are over," he explained. This was a much-discussed theme at the Global Berry Congress: creating value with fewer resources. Prospects that emerged were new variety development, like a 'super-charged strawberry,' robotization in cultivation, breeding, or gene editing, and using data to ensure chain-wide quality.

Anne-Jolien Sportel, Eva Vanmarcke, Hanna Dorcus, and Michiel Vermeiren of Cooperatie Hoogstraten.
The latter was Bert Barmans (Special Fruit), Andreas Allenspach, and Daria Reisch (Agrinorm) combined lecture's theme. Andreas indicated that there is a reason retailers demand high standards. He referred to a study at COOP Switzerland, which shows that people will abandon a sub-standard product. They do not return to buying it either. "So quality's important, but how do you meet those standards?" asked Bert.
His solution: use data. "If a product doesn't meet standards, you need to find where things went wrong in the chain. Is it at the grower, during transport, or at the supplier? Data can pinpoint that, and you can then fix it. You have the data; start using it. The users are responsible for handling it properly and meeting different customers' requirements."
Daria Reisch then presented the quality management software platform Agrinorm she developed. It uses AI to generate data, creating transparency throughout the chain. "It doesn't replace people; it's a tool. With Agrinorm, the data's available, but people must make informed decisions to optimize quality."
Speakers and visitors from around the world generally shared information to sketch a picture of the current soft fruit situation. Between the many lectures, the international crowd eagerly elaborated upon this at the stands and podiums. Most see opportunities for a product group with plenty of potential.
Click here for the Global Berry Congress 2022 photo report.
For more information:
Global Berry Congress
Website: www.fruitnet.com/gbc