The shareholders' meeting of the Italian company Sama Spa approved the proposed capital increase reserved for the historic Spanish partner Ángel Camacho Alimentación S.L., a transaction that affirms years of historic cooperation and aims to expand and intensify the presence of the two companies in their target markets with a solid international vocation.
Sama Spa is a company with more than 25 years of experience, specializing in the marketing of preserved fruits, vegetable preserves, snacks, sweeteners and dried fruit.
The new project merges the know-how and background of two well-established and dynamic partners in the food sector, both geared to offer a highly qualified service to their customers:
"We are very proud to announce the fulfillment of this agreement that represents a great opportunity to outline a shared strategic path, with medium- to long-term objectives, tackling the Italian and foreign markets and guaranteeing experience, innovation and quality of the products and services provided, announced jointly Giorgio Masiero, president and founder of Sama, and Angel Camacho, general manager of Ángel Camacho Alimentación."
This is a transaction that Sama considers of high strategic impact because it will allow it to be for its customers an all-round partner in the food sector, able to face the challenges of the market in the best way possible.
Sama and Ángel Camacho Alimentación share deep values inherent in each other's vision of business and promote the continuous pursuit of product quality through the sustainable development of relationships to ensure food and environmental safety at every step of the supply chain, creating new opportunities for consumption and responding to specific new market needs.
Sama Spa is a historical and reliable partner of Italian Retail, from the large-scale retail trade to Horeca. and wholesalers. On the strength of its proven experience in the world of store branding (MDD) and its extensive multichannel reach, it has developed three strong proprietary brands, including the premium Fattoria dei Sapori, Scelta Oro, and Frutta Oro.
Ángel Camacho Alimentación, is a Spanish company now in its fifth generation, with more than 120 years of history in the production and marketing of a wide range of products (which include olives, olive oil, jams, pickles and herbal teas) marketed under the company's flagship brands Fragata, Loreto, La Vieja Fabrica and Susaron, as well as packaged under the distributor's own brand. With distribution in more than 90 countries, today the Spanish trading group is a major supplier of olives at a global scale.
For more Information: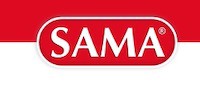 Sama Spa
Via Vittorio 88,
35040 Ponso (PD) - Italy
+39 042 9656170
+39 335 6341696
 info@samafood.it
www.samafood.it