The ban on the germination inhibitor, chlorpropham, or CIPC, is causing much controversy. From January this year, people may no longer purchase germination inhibiting substances that contain chlorpropham. These substances may, however, still be used in the European Union (EU) until no later than 8 October this year. At least one CIPC manufacturer has voluntarily brought forward the use-by-date for the Dutch market to 31 July 2020.
In Belgium, this usage deadline is 20 June 2020. After these dates have passed, alternatives for substances that prevent germination will have had to be found. However, finding these alternatives is not an easy task. The discontinuation of the use of CIPC could lead to significant issues, especially for Dutch potato exports to far-away destinations, when these products have to remain in containers for about two weeks or even longer during transit.
"This concerns 200,000 tons of potatoes that go to third countries every year," says Jan Gottschall, who is a policy specialist at the Dutch Potato Organization (NAO). "That amounts to a quarter of the country's potato export volume. We, therefore, have a major problem. We have noticed that our members are seriously concerned about how to proceed. They fear the entire export amount to third countries will fall away." These potato exports to third countries are valued at an estimate of between €75 and €100 million.
Exempted?
The NAO is, therefore, specifically focusing its research into CIPC alternatives for use during the exportation of potatoes to distant lands. "You need CIPC to inhibit germination well during exports to third countries. Studies are still being done, but the prospects do not look promising." The NAO is considering the possibility of placing an exemption on the use of CIPC for 120 days per calendar year. "Such an exemption could be applied for three consecutive years, at most, on condition that there is the prospect of an alternative germination inhibitor.
The intended application for exemption pertains to treatment at packers and exporters, definitely not at growers. But the chance of it being honored looks to be minuscule. However, without this exemption, being able to export potatoes becomes a whole different story. When it comes to exports to distant countries, we need more time to find good alternative germination inhibiting substances. Clients will not accept potatoes that are sprouting." Jan considered the disappearance of CIPC a considerable threat.
He thinks the decision-making around its prohibition was done too hastily. "We should actually have waited until alternatives - which are not in place for exports yet - were found." In his opinion, potatoes that can no longer be exported to far-off destinations could put pressure on the European potato market. "What effect will this have on trade and cultivation?" Jan thinks the seed potato sector will be affected too. Many oversized potatoes are sold as consumption potatoes in distant countries. "A good sales market will then disappear."
Contamination
Jan says that if a substance may no longer be used, the accompanying maximum residue limit (MRL) is also invalid. Since chlorpropham - even when it is no longer being used - can remain present in the walls and floors of storage and sorting and packing warehouses, even years later, potatoes may still be contaminated with CIPC. Sanitizing warehouses are being considered to prevent this. The Potato Value Chain (a partnership of European vested organizations) is setting up a protocol for this that will include the whole of Europe.
In the Netherlands, this will be followed up by the Association for the Potato Processing Industry (VAVI). Jan says this cleaning up process supports the implementation of a temporary MRL. The European Commission expects the sector to take an active stance in the prevention of CIPC contamination. Research is being done into the different sterilization methods and what effect these may have on remaining residues. This is an ongoing study, but clean-up using techniques that are as dry as possible are preferred.
The NAO has asked the Agricultural Branch Organization to set up a task force to keep track of all the various initiatives. This working group is operating under the name, 'Taskforce Kiemremming' (Germination Inhibition Task Force). Here, the various vested organizations - the Agricultural Branch Organization, NAO, VAVI, and the LTO (the Dutch Agricultural and Horticultural Organization)- coordinate each of their efforts in this field.
T-MRL
Since, in the short term, potatoes contaminated with CIPC from warehouses are expected to be found, the sector has applied for a temporary MRL(t-MRL). This application was made via the Dutch Authorisation of Pesticides and Biocides Board (CTGB) to the European Food and Safety Authority. "The CTGB has advised a t-MRL of between 0,3 and 0,5 ppm (mg/kg). They find this to be acceptable from a health perspective." It is expected that the EU will decide this in early 2021. "As long as there is no decision, the current MRL of 10 ppm remains valid," says Jan.
"If the application is denied, a detection level of 0,01 ppm will apply, and half the potatoes will fall by the wayside." At the same time, Jan warns farmers not to use any CIPC in the new season because it is still unclear when the t-MRL will be introduced. After that, no potatoes with a CIPC level above the temporary standard are allowed to be sold. He adds that, in the Netherlands, manufacturers of sprouting prevention substances that contain CIPC, are therefore deviating from the European use-by date of 8 October and are applying the deadline of 31 July themselves.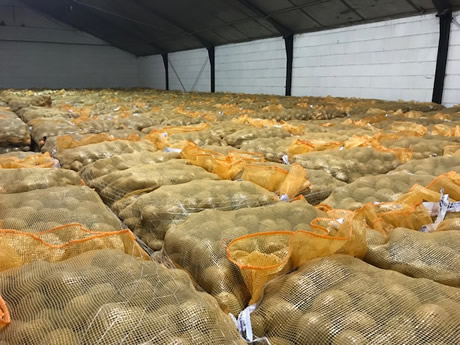 Westhoeve potatoes
Going to have an impact
"We still have enough CIPC in stock to use on our potatoes until we reach the date when it is no longer allowed," says William Westhoeve of Westhoeve Potatoes, in the Netherlands. This company has been in the potato import and export business for more than 30 years. The potato import and export sector is, therefore, not yet experiencing any problems with this. But William does expect issues when this substance runs out. Transportation distances, temperatures, and humidity all play a role in the germination of potatoes, and it is, therefore, vital to employ a good sprout inhibitor, especially to distant countries, he says.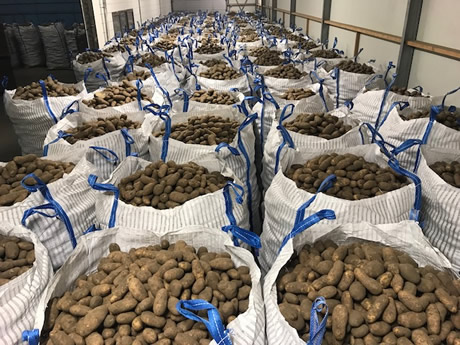 Westhoeve Potatoes
He predicts the real impact of the CIPC ban will only be felt after the new harvest. "It is, however, clear that it will have an impact. At the start of the season, we do not use CIPC at all because the potatoes have just been grubbed. There is, therefore, no risk that they will continue growing. But in September/October, you have to use it; otherwise, you will not get the desired results at destinations in Africa and the Caribbean. They arrive sprouting, and the markets will not accept potatoes with such defects."
William has determined that to store potatoes well for future consumption, it is essential that they do not start germinating, and without an inhibitor, this is just about impossible. Although research is being done into a suitable alternative, William is not yet keen on the effectiveness of the results. "The best means available must be used, and then we will just have to see how it goes. There is little else to do." Westhoeve Potatoes exports potatoes to places like West Africa, the Caribbean, and the Far East. It takes between 21 and 40 days for their potatoes to reach these destinations.

Wim Tuinstra, Jan Tuinstra Aardappelhandel
Affects the entire sector
Wim Tuinstra of Jan Tuinstra B.V., another Dutch company - which focuses on packing potatoes for export - is still using CIPC in the current season, which means there are no problems with potato exports as yet. This potato packer is taking part in the NAO project to try and find alternatives for the use of CIPC. "I think it is great that we are working together in the sector to achieve something in this area." In Wim's opinion, problems will arise with exporting potatoes outside of Europe.
"Everything that has to sit in a container for more than two weeks - certainly as spring and summer approaches - must be protected, and that protection is now coming to an end. That will have an impact on the whole sector." Wim expects the discontinuation of the use of CIPC to have significant ramifications, especially since the Netherlands exports a lot of potatoes, even though these consequences are not visible as yet. He, however, remains optimistic about finding an alternative for CIPC in the long run. "I am working under the assumption that we will find something to replace it in the coming years," Wim concludes.
More information:
NAO 
Jan Gottschall
gottschall@nao.nl 
Westhoeve Potatoes Holland
Hofdijksweg 42
3253 KB Ouddorp
Tel: 0187-683137
Fax: 0187-681274
info@westhoevepotatoes.nl 
www.westhoevepotatoes.nl    
Jan Tuinstra BV
Molendijk 83a
3249 AN Herkingen
Tel: 0187-669555
info@jantuinstrabv.nl  
www.jantuinstrabv.nl