It is not only the direct fruit and vegetable trade that is feeling the impact of the corona virus. Due to the many stock exchanges that cannot go ahead due to the situation, the problems have been piling up. They remain positive at Fuji Benelux, although they cannot deny that the situation will also have financial consequences for them.
Fuji-Packaging Benelux has been working from the Netherlands for forty years to market the Fuji machines. In that time, Rinze Jonkman, account manager of Fuji Benelux, has seen the market grow considerably: "We currently have 900 Fuji machines operating in the Benelux. This not only concerns packaging machines for fruit and vegetables, but also, for example, cold cuts, cheese, chocolate and all kinds of bakery products. But we are also well represented in non-food. Our oldest still running machine is now 35 years old. There are few of those ages in the Benelux, because we initially only sold two to three machines per year. That number has now risen sharply, otherwise you can't get 900 machines in the 40 years that we have been working! "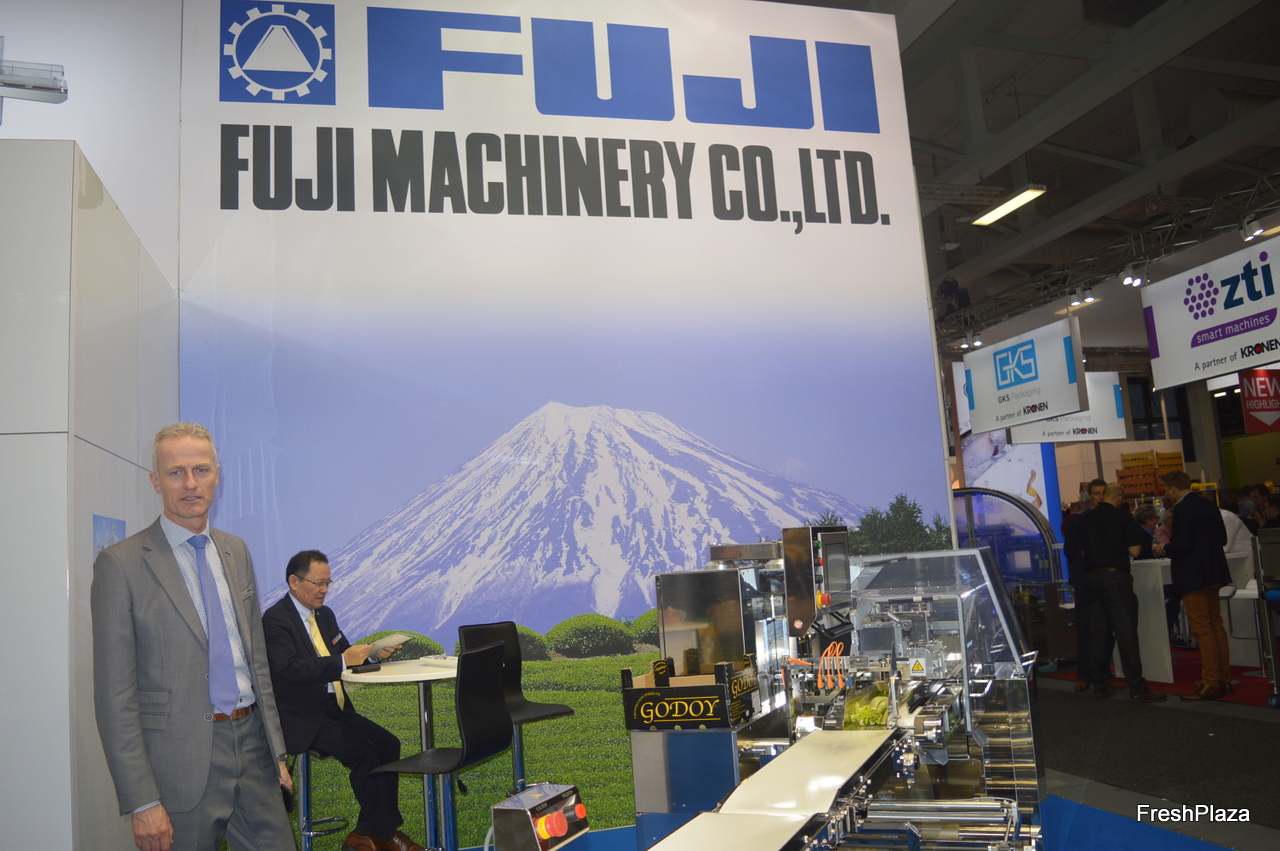 Rinze Jonkman of Fuji-Packaging Benelux
In recent years, there has been a turnaround in the use of plastic packaging. Although this is not necessarily something new for Jonkman and Fuji Benelux. "The developments surrounding plastic packaging have been underway for several years, of course, although you can see that more and more manufacturers are moving towards packaging that is better for the environment. Over the past two years, various manufacturers have come to us to test options. Nowadays you see many producers switching to mono plastics, but these lines can run less quickly and so productivity was lost. Fortunately, we have found the solution at Fuji, so manufacturers with Fuji machines can run at high speed and still get the guarantee that the packaging closes properly. Now this is mainly used in the meat packaging industry, but I would not be surprised if monofilms also become more popular for fruit and vegetables. Of course, we have been using packaging paper for a long time with products such as sausage rolls. "
The world is currently plagued by the coronavirus, with as a result that many stock exchanges are closing their doors. This is a big problem for Jonkman, as they had a full agenda planned: "We are now somewhat stuck wondering "What now?" It started with the postponement of Interpack in Düsseldorf, this is really the biggest fair in the world when it comes to packaging. That fair has now moved to the end of the year. In a few weeks we will receive the machines that we would normally exhibit there, but we do not know how to proceed. Fuji would have a stand of 800m2 at the fair. It is an unbelievable shame, although we understand very well why these measures are being taken. The Empack is also being moved. "
This makes customer contact a lot more challenging, which is not only noticeable at trade fairs. "We recently had an appointment with a customer who just got a new factory. Normally you go on the floor together and look together where Fuji might play a role. However, the factory was now closed to us because of the corona virus. Completely understandable, by the way, but now our meeting is just a cup of coffee. Doing business becomes a lot more difficult this way. I would like to emphasise that we as Fuji Benelux fully understand the situation. However, we also see that production still has to be done and we work together in close consultation with the customer to ensure that the entire process continues. The economy must continue to run, although we will all have to take our measures and proceed with caution," concludes Jonkman.
For more information:
Rinze Jonkman
Fuji-Packaging Benelux
Tel: +31 (0) 320 - 266 128 | +31 (0) 6 - 46 04 08 97
Email: R.Jonkman@fuji-packaging.nl
www.fuji-packaging.nl