Denmark is one of the strictest countries regarding the rules for organic production, but Rasmus Moth Madsen took the plunge and started to focus on the production of organic potted plants. His father is Torben Moth Madsen of Rosa Danica A/S, a potted rose grower, and in his greenhouse, Rasmus started experimenting with the production of organic plants. And he succeeded. In 2017, the company, named Biosund Aps, was approved for organic production of potted plants. Since then, they have been working on product development and did the first test sales in online supermarkets in Denmark. Interest is high and Biosund is ready to spread its wings in Europe.
Rasmus showed his organic assortment for the first time at the IPM Essen that took place last week. Since the establishment of the company, their assortment of organic vegetables has grown rapidly and lately, they introduced winter hardy herbs to the assortment.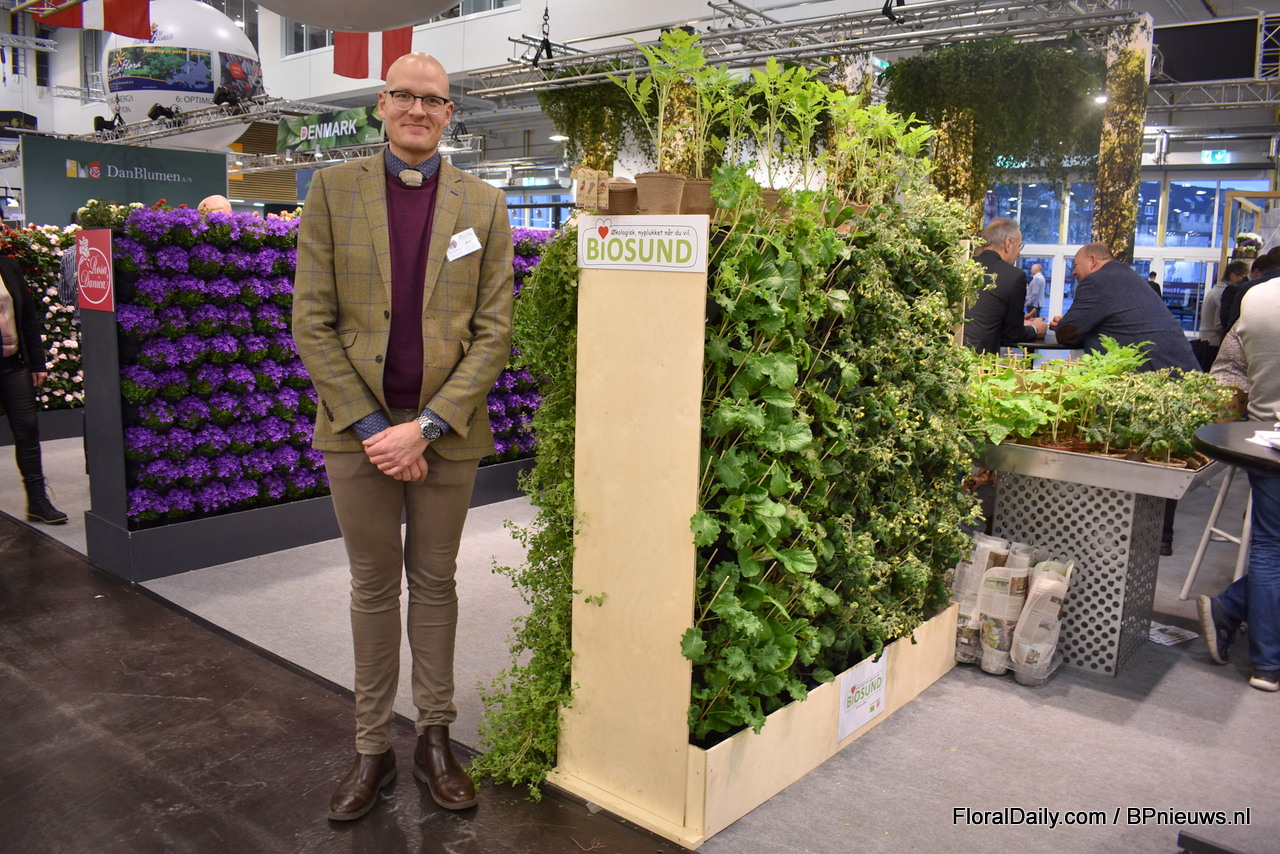 Rasmus Moth Madsen at the IPM Essen 2020
Company in a company
BioSund Aps is a subsidiary of Rosa Danica A/S. It is literally a company in a company, as Rasmus grows his plants on 4,000 m2 inside the Rosa Danica greenhouse. "This part is hermetically closed", says Rasmus. Together with a team of qualified gardeners, he takes daily care of the organic production of the vegetables and herbs. "This way, we can ensure that they grow into a healthy and sustainable plant."
Organic production
All plants in the assortme
nt are completely organically grown. "The pots in which they are grown are recyclable and made of paper, peat and chalk, that can easily be planted into the soil, and will break down itself - in three months - without affecting nature. The plants are produced in organic sphagnum and we water them with collected rainwater together with organic plant extracts, which creates growth for the plant. All plants are preventatively treated with biological pest control against harmful insects. To strengthen the plant's defense against fungal diseases biostimulants are used in the production process", explains Rasmus.
Interest
Biosund was exhibiting at the IPM Essen for the first time, but it is not the first time they showed the products, having also showed them at the FloraHolland Trade Fair in the Netherlands; and they were already offered by Danish supermarkets last year. Since then, Rasmus has seen the interest increasing. "We see more and more interest coming from supermarkets in other countries. They know about the strict rules for biological production in Denmark and they are interested in having 100% biological products on their shelves." On top of that, the interest for the products of Biosund continues to increase within Denmark as well. We've done tests at the online supermarkets and now, they increased their orders rapidly"
Expansion plans?
Are there any plans to expand? "Rosa Danica has a lot of space, but that space is for the moment reserved for rose production." On top of that, the organic production is very challenging, he adds. "It is extremely hard to control pests and diseases. I don't think, that the production will double for the next year, it could be though, that in a few years the production will increase a bit more. But who knows, it can be that the world becomes more open for better and more sustainable produced products in the future."
For more information

BioSund ApS
Rasmus Moth Madsen
Email: rmm@rosa-danica.dk
www.biosund.dk