"The new packaging law aims in particular to avoid free riders, but hardly provides any impetus for more genuine sustainability. The global dependence on China and other countries then suddenly became clear when massive import restrictions for waste were introduced."
Harsh criticism of decisions by politicians and trade representatives from the wood packaging industry. They are worried about disposal problems and cost increases, as well as the littering of habitats. "This has finally caught the public's attention." But is that enough?
"The recent trend of criticising plastic has become much more extensive and also raises the question of whether plastic is not generally a material that should be avoided if possible", says  Uwe Groll, managing director of Grow e.V., the association for environmentally friendly wooden packaging. "Plastic packaging with a wooden look looks almost funny. What does this have to do with credibility under the changed conditions?

Uwe Groll and Markus Benninger at the Benninger premises.
There is now a clear trend towards packaging made from genuine renewable raw materials that can be kept in the natural cycle, for example by composting in the home country. However, many questions and misunderstandings remain open: "Not everyone understands the difference between plastic that is 'compostable' and a plastic made from renewable resources. Both materials are very  different and a lot of clarification and labelling is still needed to ensure that the desired material cycles actually work."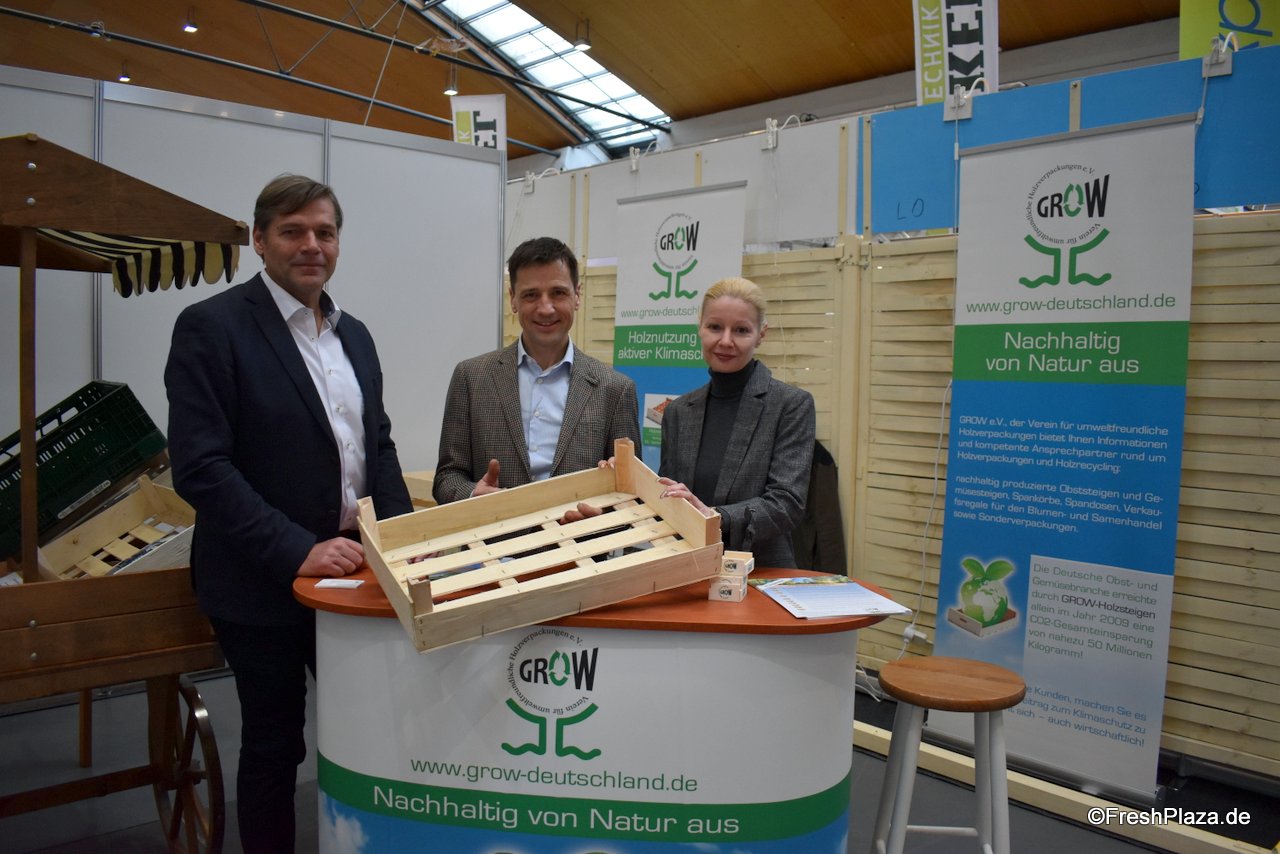 Representation at expoSE/expoDirekt 2019: Michael Sandhas, Alexander Engel and Stephanie Delp
Things seem to be much easier for wood as a raw material, which has a fully functioning recycling management system in Germany. Groll explains: "While the waste paper trade is also internationally oriented in this respect, waste wood is almost completely recycled in Germany and the neighbouring countries. Today, these are factors that have an increasing influence on the evaluation of packaging, also with customers. Similarly, in the case of wood, the type of wood and the countries from which the wood comes play a role. Here there are certainly types of wood that are obtained even more sustainably than others".
For wooden crates, almost exclusively poplar wood is used, which can be used industrially from 20 years on. This comes almost exclusively from certified national or private forestry in Germany and Europe.

Poplar logs, ready for processing
How does the production of the boxes work? Take a look at the process in this FreshPlaza photo report.
"In Germany, there is still a reluctance in the area of lightweight wooden packaging materials. The focus on necessary changes is initially primarily on consumer packaging. Changes towards alternatives made of paper, grass and leaves are clearly taking place there. Initially, often emotionally influenced and without having finally clarified all questions of migration and other food-related issues. Our neighbouring countries understand the topic much more comprehensively and also include transport packaging," says Groll's food for thought.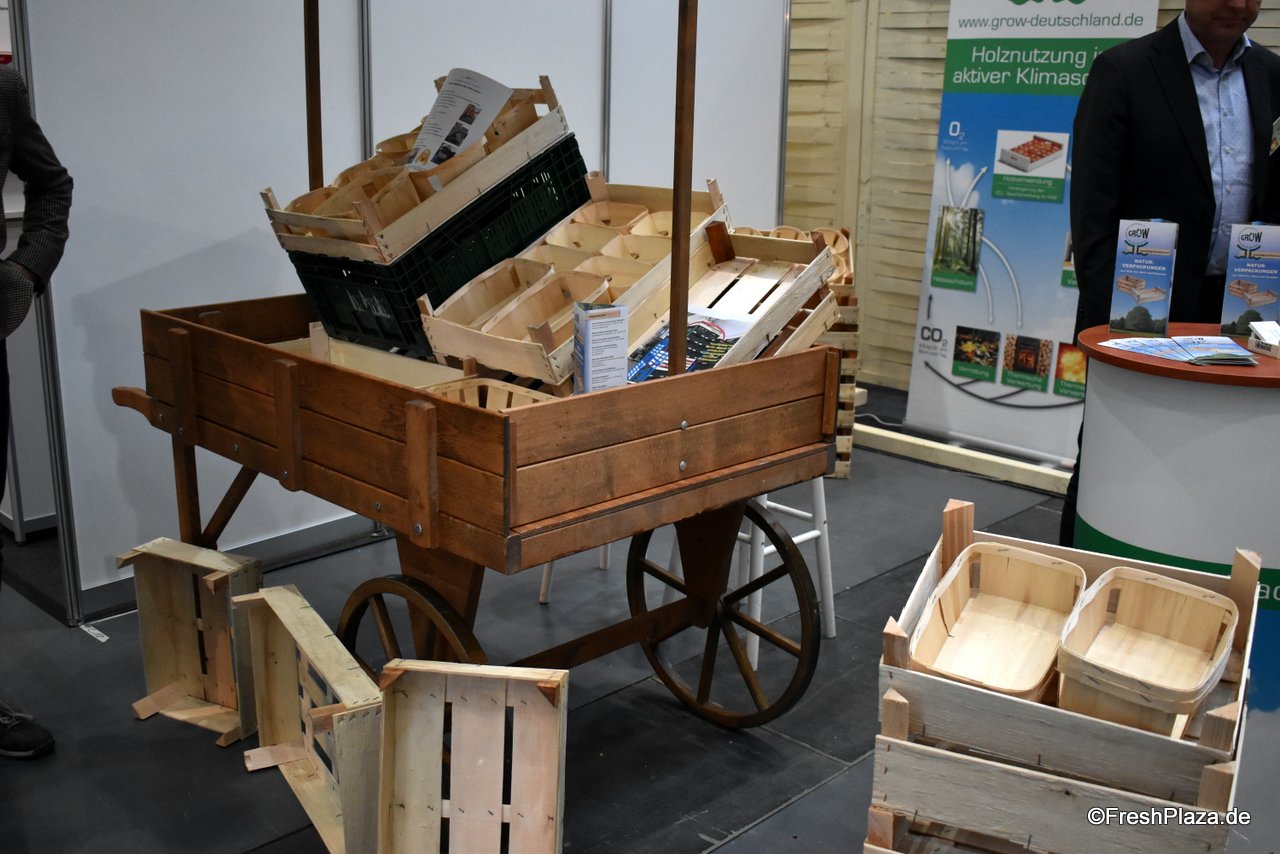 One could speak of a true renaissance for wooden crates in France, Spain and Italy. In these countries, the effect of natural products actually being more credible and easier to market in natural packaging is also seen. Not only in the organic segment, but also in the classic product range, wooden packaging is receiving more attention.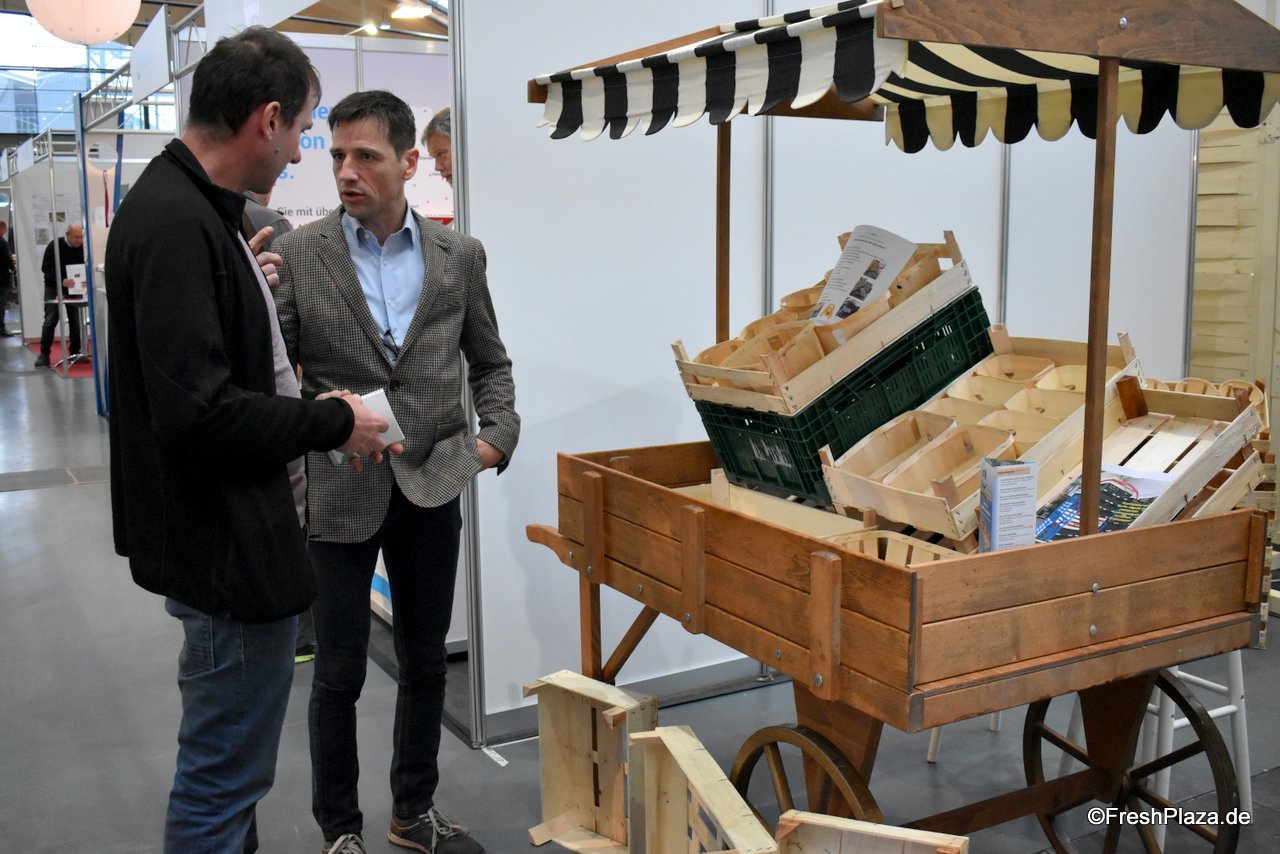 The past years have been used by the industry to strengthen these conspicuous features also scientifically. Findings regarding the sustainability of the product as well as its suitability for use with food and hygiene are constantly being expanded and also adapted to technical developments regarding the woods used and processing techniques and printing inks, if applicable.
"Hardly any other material is likely to have been examined more intensively in the field of hygiene and migration at present, and in some cases has produced surprisingly positive results. Recently, it was even proven that wooden fish packaging is hygienically safer than EPS (polystyrene) boxes".
However, this also applies to the fruit and vegetable sector: "If the packaging decision were to be less influenced by logistical issues and more from the perspective of the producers responsible for the product, significantly more wooden packaging would be used for some crops in order to better guarantee the quality, ripeness and appearance of the products. But here too there are changes that are initially coming from other countries. In the meantime, it is openly stated that producers would like to have more leeway for their own choice of packaging according to aspects of optimal protection and transport and marketing function."
Dr. Florence Aviat, from YouR-ResearcH, presented the advantages of wooden crates in her talk at the European Packaging Forum 2019.
Groll concludes: "At last year's European Packaging Forum in Düsseldorf, one of the speakers said: 'We will soon see whether we are having a sham discussion here or whether we are facing a packaging revolution'. I think the direction is becoming clearer."
For more information:
Uwe Groll

GROW GmbH
Hauptstraße 98
67133 Maxdorf, DE
+49 (6237) 929593
grow-gmbh@t-online.de 
www.grow-deutschland.de