"It is was very quiet in the trade market," says Annie Lebleu of the Belgian wholesaler, Verdigro. "I suspect it was the calm before the storm. Everything in our sector must be fresh. The hustle and bustle before Christmas, therefore, only started on Thursday and Friday."
"Everything in our assortment is available. However, during the festive season, we work a lot on order. Especially the specialties are only available on order. In this way, we can guarantee that you get the freshest products."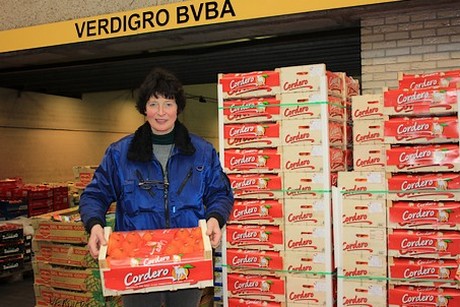 The citrus market calmed down after the busy Sinterklaas period. "There is not an excessive demand for citrus, but it is also not extremely low. The quality of the mandarins and clementines is good. However, this year, the oranges are also of good quality," Annie says.
"Supply is very normal this year. But, since the demand is also normal, there is enough on the market. Orange sales are currently also quite quiet. That is, however, because there are enough clementines on the market. We expect orange sales to increase after New Year's Eve."
Verdigro to get new owners
"We would also like to announce that we will be handing over our business to new owners on 6 January. We have found two young people who want to keep moving Verdigro in the same direction. These are Pieter Vlaeminck and Maikel Catry," adds Lebleu.
"We will remain a little active behind the scenes. We want the transition to run smoothly. Not much will change for our clients. All the house brands will remain as is. The new owners will simply carry on where we left off."
"We founded Verdigro 30 years ago. Although we were not from this sector, we did well. The business has been number one for years. However, we have come to the point where we want to enjoy life a little more. We have run this business with immense pleasure. But the time has come for the company to get a breath of fresh air," concludes Annie.
For more information:

Annie Lebleu
Verdigro 
440 Groene Street
8800 Roeselare, Belgium
Tel: +32 (0) 512 02 752
Mob (Dirk): +32 (0) 475 236 712
Mob (Annie): +32 (0) 476 412 512
Email: info@verdigro.be    
Website: www.verdigrogroentenfruit.be