The 'Be Climate' project was recently launched by Port International at the Fruit Attraction in Madrid. But the truth is that Port has been a climate neutral company since 2017 and has been offering their customers climate neutral products for three years now. With this lead in knowledge and the goal of effectively doing something about climate change, the Be Climate brand was introduced in the market after more than one year of intensive work.
Complete with a new logo to grab the consumer's attention, Be Climate wants the world to know how much CO₂ has been neutralized before consumers purchased the fruits that are now on offer in climate
neutral quality – which are strawberries, bananas, clementines with leaf, blueberries and green asparagus.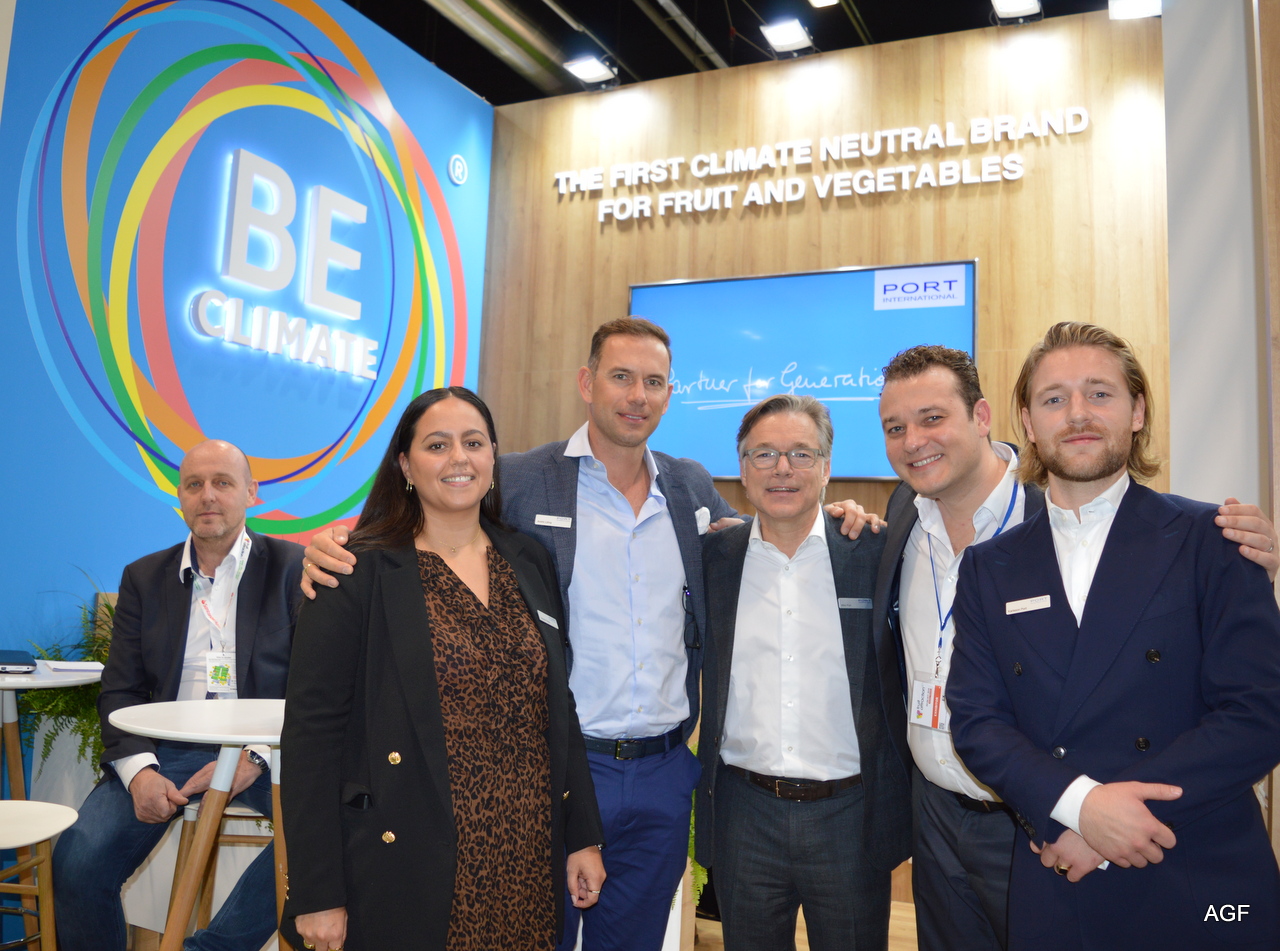 The Be Climate brand was set up by Port International in order to slow down global warming and to make it effectively possible for clients and consumers to protect our climate in an easy and comprehensible manner. When speaking with Mike Port, the CEO of Port International states his belief that just talking about how people should take care of our planet's climate is not enough. "Although climate protection is gaining more and more public attention and the necessity of CO₂ reduction is discussed in many forums around the globe, emissions keep rising. According to current publications, 38 gigatons of CO₂ per year are emitted worldwide. In order to achieve a global reduction and to reach the UN Sustainable Development Goals, we urgently need technological developments, among other things. But these developments need time. In order to take immediate action against climate change, certificate trading and the offsetting of emissions offer great potential."
Therefore, Port calculated the total CO₂ emissions caused by the fruits or vegetables on their way from the country of origin to the point of sale, including cultivation, packing, and logistics. Then they reduced the CO₂ emissions wherever possible, and the inevitable emissions were compensated by supporting certified carbon offset projects.
Mike Port emphasizes that transparency plays a central role in calculating and offsetting emissions and must be guaranteed for customers and consumers at all times. To achieve this, packagings now carry a QR code. Upon scanning this QR code, the consumer is taken to a specific product page, where he or she will find all information about the quantity of the CO₂ offset and the supported climate protection projects. Port explains that with Be Climate, they currently support two projects which focus on helping the people and the environment in countries where climate change is most noticeable.
"On the one hand, we support a clean drinking water project in Cambodia. With the help of a subsidised ceramic water filter system, the project supplies approximately 1.7 million people with clean drinking water, making the boiling with firewood superfluous and thus avoiding huge amounts of CO₂ emissions. On the other hand, we support a forest protection project in the Peruvian Madre de Dios region. Measures include for example reforestation, sustainable forest management, and the creation of financial incentives to protect the woods. Both the drinking water project and the forest conservation project are certified to the highest possible standard", Port says.
To ensure transparency and the credibility of the Be Climate brand, Port International is working with ClimatePartner, an internationally recognized service provider for climate assessments and reports. "Thanks to ClimatePartner, we've been able to obtain all the required certificates for our products through the carbon offset projects in Peru and Cambodia which we support in equal parts. Together with our customers, we are working on our goal of offering an entirely climate neutral fruit and vegetable portfolio. In addition, we will use all our influence to gradually create a supply chain which will be as climate friendly as possible from beginning to end," Port concludes.
For more information:
Lena Serrano / Julia Röder
Port International GmbH
Tel: +4940-301000 556 / +4940-301000 517
E-mail: lena@port-international.com  / julia@port-international.com