The Greek kiwi season had a better start than anticipated. Although harvesting is nowhere near done yet, volumes appear to be higher and demand seems to be on the up this early in the season. What's more is the Greek government has been lobbying to open the market in Thailand for the kiwis from Greece.
Kiwi traders in Greece could not have hoped for a better start of their season. The weather has played nicely, with sufficient cold for the kiwis to grow to their full potential. Christina Manosis, sales manager for Greek exporter Zeus, said her expectations for the season are very high. "We're currently still harvesting the kiwis, about thirty per cent of that stage has been completed. However I can already say with confidence the season is going to be pretty great. Volumes seem to be slightly higher than we thought and demand is already strong. We're increasing our brand visibility in the Latin American markets, which is one of the focus-points for Zeus this season."
For Zeus, Europe and the United Kingdom specifically have always been important markets. That won't change this season, but new markets are being explored, says Manosis: "We've been very keen to explore the Latin American market, as there isn't a lot of competition while the Greek kiwis are in season. That's not all though, as the Greek government is lobbying with Thailand officials to open their doors for Greek kiwis. In two weeks, at November the 15th, a Thai delegation will visit Greece to inspect packhouses and fields. Zeus was one of the two selected companies they will visit, so we're very happy about this. I doubt we'll be able to enter their market this season, but it shows great promise for the 2020/2021 season next year!"
That isn't all that's exciting for the Greek traders. After investing in both 2018 and 2019, this weekend a new sorting machine will be running for the very first time in the Zeus packhouse. "The machine has been installed over the past few weeks, but tomorrow we'll have our very first run. The sorting machine is special as it doesn't just sort on size, but is also able to check any quality issues on the inside and outside of the kiwis. This will improve the quality of the kiwis that we export, and another part of the new line will be installed in 2020. It's been a large investment but I'm sure it will prove its worth over the next few seasons." Manosis explained.
According to Manosis the kiwi season has been influenced by a lack of Italian kiwis. "We've seen prices increase this season, they're at a similar level as they were two seasons ago. The fact the Italian kiwi volumes are less than expected contributed to this price increase. Although it all depends on the price growers ask for their kiwis, I do expect it'll be a better season than the last one was."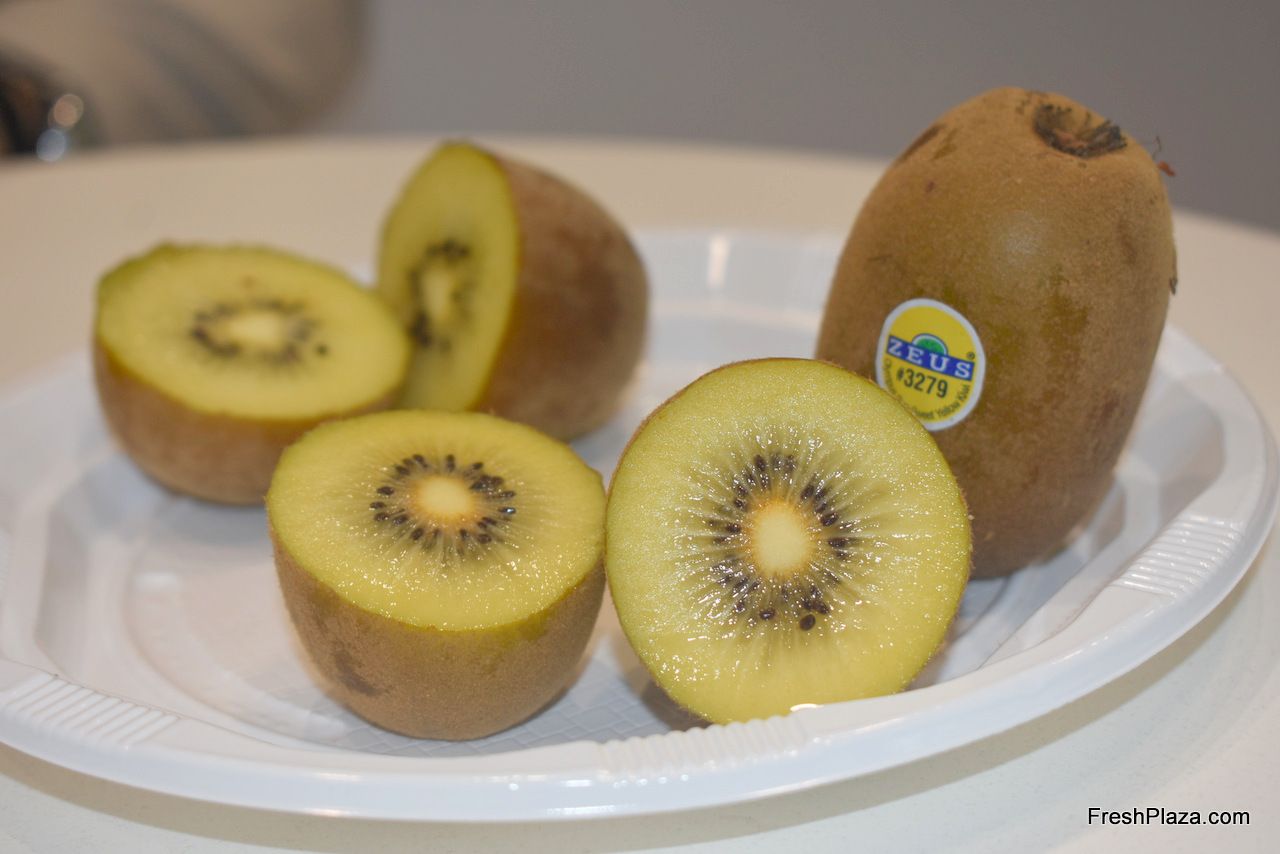 The new yellow kiwi varieties of Zeus. When fully ripened, the yellow color will show much more vivid than they did now.
During Fruit Attraction, Zeus brought some of their new varieties of kiwis to the exhibition. "We're not quite ready to disclose all the details for our golden kiwi varieties yet, but progress is going steady. We're currently in the works with a legal company to secure our fruit is legally protected. We're still a way off, but it's a very exciting time for us," Manosis said. "We showcased these varieties in Madrid, Fruit Attraction was a very nice exhibition for us. We had a better trade fair than we even expected, it's surely my favorite trade show."
For more information
Christina Manosis
Zeus Kiwi SA
Tel: +30 2351 053559
Email: Christinam@zeuskiwi.gr
www.zeuskiwi.gr