The Brussels Sprouts season is progressing satisfactorily. This is according to Bouwe Piek from Geervliet in the Netherlands. "The quality is good, and the volumes are nice. It is only the price that has been a little lower than last year. This has been the case since the start of the season. These prices are, however, remaining relatively stable for now. At the moment, it is at a level of €0,65 for a pack of sprouts."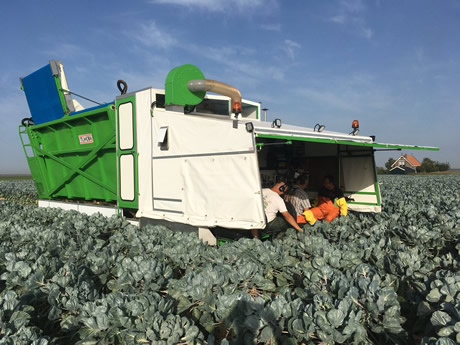 The grower is looking forward to the rest of the reason with confidence. "We are still keeping an eye on Spain. There will certainly be considerably fewer vegetables coming from there, after the flooding. You have to hope this has a positive effect on the Brussels Sprouts market. If it were up to us, the rains would stay away in the coming weeks. This would mean the yields would remain average to slightly below average."
Growers are still profiting from the Brussels Sprouts hype. This hype began in the United States. "It is hardly considered a winter vegetable anymore. Our clients want Brussels Sprouts all year round," says Bouwe. He sells Brussels Sprouts from Van Oers United mostly in the United Kingdom and Scandinavia.