Current events in Hong Kong are causing some headaches to the organization of Asia Fruit Logistica. Last weekend, an email was sent to the exhibitors in which they were presented with two options: Either Asia Fruit Logistica is held from 4 to 6 September, or the trade show is postponed to 11 to 13 December. The organization wants to make a clear decision on Tuesday, two weeks before the start of the exhibition, to provide clarity about whether or not to continue the exhibition.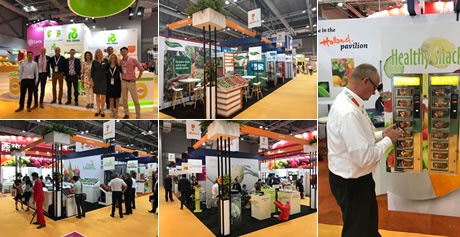 Ger van Burik, of the Holland Fresh Group, confirms that the question has been asked to the exhibitors by the event's organizer. "I forwarded the message directly to the participants of the Holland Fresh Group Pavilion. Nine companies choose to have the fair continue in September, while another four companies prefer the option of postponing it until December."
The Greek exporter Christina Manosis, of Zeus Kiwi, prefers a postponement. "Even though December is a very busy period for us, we believe that the current situation is not safe. Moreover, it makes little sense to go to Hong Kong if (many) visitors decide not to travel to AFL. We are keeping a close eye on the news and have the idea that there are new developments every day."
Another Greek exporter says that, in their opinion, the situation is safe, but that everything depends on the number of visitors. "Within a week, we hope we'll be able to know where we stand."
UK company MARCO said they are happy to go ahead in September as planned.
Another UK company said many people would lose money on flights and hotel bookings if the event was moved to December and also no one knows how the situation will be in December.
A number companies in New Zealand are keeping a close eye on the situation, some have expressed concerns about visitor numbers but on whole would they prefer to keep the event in September. 
For South Africans, the presence or absence of Chile and Peru would be the most important consideration in making a decision as to whether they would attend AFL in December, or whether they would rather just attend Fruit Attraction or the China International Import Expo in November or other trade shows. 
December is peak grape and stonefruit seasons, which would make attendance for many exporters more difficult than early September.
The message from the AFL organisers hasn't been sent to individual exhibitors as the South African's have a group stand, so many of the exhibitors which form part of the South African Pavilion are unaware of it. They say probably the organisers don't want to cause undue concern.
There is also worry about the cost implications of postponing the trade show.
Fabien Dumont, exports commercial manager at FruitMasters, says that the trade fair will simply take place on the scheduled dates of 4-6 September. "We are now picking fruit and, traditionally, Asia Fruit Logistica being held in September gives us the perfect opportunity to negotiate our exports to distant destinations. That is why we have been exhibitors from the very start. If the fair was held in December, we'd miss this train completely and that also goes for our French and Italian colleagues."
"Also, I doubt that people will book their tickets for a second time. In my view, there is no other option than to let the fair go ahead. I hope everyone agrees. In addition to the costs involved, delaying it would entail huge chaos, as all the stuff for the fair has already been shipped."
Frank Levarht, of the import and export company of the same name, also said to be in favor of keeping the trade fair on the planned dates in September. "Who can say that the situation will have changed in December...?"
For Rien Murre, of TOP Onions, the delay is indeed an option. "I think it is a good idea to organize the trade show in December, as I am afraid that the visitors may now decide not to go. Why would you go to a trade show if unrest is expected? You attend trade shows for the visitors; therefore, a delay to December is a good alternative for us.
Massimo Ceradini from the Italian Ceradini Group said the following: "I have no hesitation about attending the Asia Fruit Logistica trade fair in the first few days of September. I believe the news was a bit exaggerated and that there will be no problems. I attended the fair for the first time in 2009, as a visitor and I am present with a company booth since 2010. Especially in the early years I expanded my contacts. Now I mostly participate to consolidate the acquired customers".
Tessa from Wo Hing Food (Hong Kong) Co., Ltd. mentioned they will just wait and see what the organisation decides. They're not really concerned about when the exhibition will take place, in both scenarios they would like to attend. "Our company is based in Hong Kong and is safe and operating normally. If the exhibition tells us the event will go on as planned, we'll just continue preparing our participation for September."
The Flemish exhibitor Victor Bernad, of DBS Agro, is closely following the situation in Hong Kong. "We of course need to confirm our tickets, and for now the trade fair continues for us. It would be nice if the organization quickly decided whether the trade show will be rescheduled or not, so that we can still rebook our hotel and tickets."
"The trade show will start in over two weeks and a lot can happen in that time. If the organization decides to postpone it to December, it would not make much of a difference to us. It would probably be better if everything was back to normal and calm. We have no production that is waiting to be sold."
The Dutch horticultural supplier Dalsem is in favor of keeping Asia Fruit Logistica Hong Kong in September. "Furthermore, we believe that December is a less suitable period for this exhibition. Given the current situation in Hong Kong, we are following the news closely. However, behind the scenes we hear that the events in Hong Kong are very local and happening in few places. In any case, security is paramount for Dalsem and we will adjust our planning should a negative travel advice be issued by the Ministry of Foreign Affairs," says Export Area Manager Marc Broeren.
Yigit Gokyigit from Alanar states the Turkish exporter hopes the exhibition will take place as scheduled, as he sees no benefit from postponing the event. "There is no guarantee it will be any safer in three months than it is now. We believe there will be proper precautions taken to ensure everyone's safety. All in all we're not worried and expect the event to not be postponed."