Frits Verhoeckx started Frits Fruit 18 months ago. This Dutch company supplies apples and pears to wholesalers and supermarkets throughout Europe. "Last year, there was almost no fruit available anymore. The sky was the limit. This year, it is a completely different story. It seems like prices are doing nothing but dropping. So, I have had my baptism of fire," says Frits.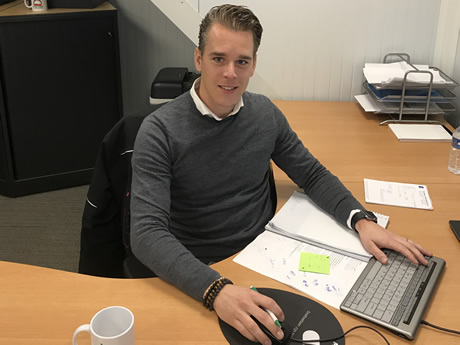 "The current season is tough, especially when it comes to pears. There are a lot of bad batches on the market. These are now bringing the good batches down with them. I also do not see things improving right away. I dare not say whether this will have consequences for the next season," says this young entrepreneur.
"However, many growers are already in dire straits, and the current situation is not helping. In recent years, the tendency has been that only top quality fruit still sells well. You can hardly get rid of a product that is of slightly lesser quality. All in all, it will be a challenge in the coming years to only cultivate top products."
"On the apple market, domestic trade is still going quite well. A good price is still being paid for good quality Elstars. But there can not be a single thing wrong with them," says Frits. He also has the exclusive selling rights for the Lola apple on the Dutch market.
"For now, we are only placing this variety with wholesalers who focus on market vendors and greengrocers. They can give this club variety the attention it deserves. We are not displeased with sales," Frits concludes.

For more information:
Frits Verhoeckx
Frits Fruit
88a Burgemeester van Randwijck Street
5328 AV Rossum, NL
Tel: +31 (0) 418 519 338
info@fritsfruit.nl 
www.fritsfruit.nl