This past summer, Milestone Fresh's air cargo division moved to a new location at Schiphol in the Netherlands. According to Director, Co van Es, the new building has proved to be an immediate success. "It is a nice-looking location, you can see from the A4 and N201. You can also see it if you are sitting on a plane on Kaagbaan", he says.
"At this new location, we can do much more for our clients, logistically-speaking. For example, we have more capacity for storage, transshipment, and distribution. Besides the cooling cells, we also have three large quarantine areas at our disposal. Here, we can house six containers at a time. So, besides air cargo, we can also handle sea containers very well."
"Now we can provide the supply chain for an increasing number of well-known trading houses. This entails an enormous diversity of products. The main part of air freight still includes flowers/plants and dry goods. We also, however, transport fruit and vegetables", explains Co.
"For a few overseas clients, we function as a true transshipment center. This is going extremely well. There are very few forwarding companies that can offer such a complete package."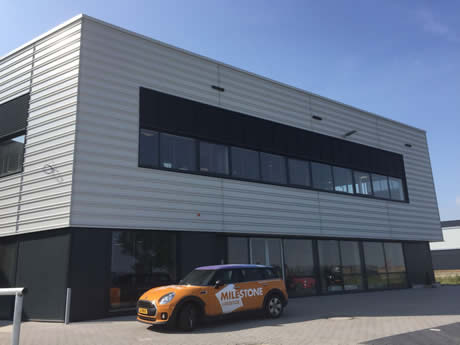 "Our specialty is taking care of door-to-door shipments. Here, we take full responsibility for the supply chain. We do air and sea freight journeys. Besides these, we bring the transportation of goods together via air and sea", he goes on to say.
"We do so in a single combined air-sea service. In this way, clients benefit from the best of both worlds. This is because it is more cost-effective than airfreight and faster than sea freight."
"Unfortunately, we also see that the economic growth of recent times also has repercussions on the tariffs of the various logistics providers. Air as well as sea freight capacity has begun to rapidly become a dire issue. This is also true for road transport and even long-term storage."
"It goes without saying that these service providers take advantage of this by raising their tariffs. Milestone will, of course, do everything in its power to keep these rates as competitive as possible", concludes Co.



Co van Es and Peter van der Klift
For more information:
Milestone Fresh
Tel.: +31 (0) 102 580 900
Fax: +31 (0) 102 022 682
fresh@milestonefresh.nl  
www.milestonefresh.nl