When José Vercher Cuñat started selling fruits in Valencia in 1922, he couldn't have imagined that, almost a century later, the Bollo brand would be known worldwide in the global fruit market. Now the company is managed by the third generation and the fourth is also at the company. Carla Vercher, is employed as international trade and marketing manager. Fresh Plaza visited the company's headquarters in Valencia, where 170 million kilos of fruit are packed annually.
"The origins of our company are in citrus growing, especially oranges and clementines, which we cultivate ourselves on a total of ​​1,200 hectares. Our production areas are geographically spread from Castellon to Huelva, so our customers always have guaranteed access to high-quality citrus "says Carla.
"It's important to take in account that the quality begins from the fields. By selecting the best soils, water, varieties, and be on the forefront of harvesting and plant techniques. That is why we don´t skimp on investing and controlling quality at our fields, And we are proud to say that we have powerful and valid agricultural team."
"The success of the company is based on their values: quality, innovation and fairness. We find it very important to work fairly with our customers on how to pay for our products, especially growers, as without their primary material we couldn´t work. We also value workers because, with them, we can make the orders and serve the community.  We are always sensitive to the needs of our neighbourhood and the environment. We are all necessary links in the chain", says Carla.
Over the years, the Spanish production has also been expanded with kakis, kiwis, pomegranate and avocados, with the latter being the most recent edition. Since customers increasingly demand a year-round availability of citrus under the Bollo brand, the company also imports citrus from Argentina, Peru, Uruguay and South Africa. About 40% of the citrus is sold on the domestic retail and wholesale markets. It´s important also to adapt to the market and try to be in all the points of sale. The majority, however, is exported, not only within Europe, but also to markets such as Canada, Brazil, the United Arab Emirates and China.
Fifteen years ago, Bollo decided to expand its horizons by also growing melons in Brazil. The company currently has ​​no less than 6,000 hectares devoted mostly to the cultivation of Piel de Sapo melons, with some Honeydew melons as a complement. "We are very happy with this choice, because it is giving us the chance to meet the wishes of our customers. With Bollo Brazil we can offer our melons all the year round. All melons are packed and checked in our packing station in Spain. We sell the bulk of the Piel de Sapo melons in Spain and Portugal and we promote their sale with commercials on TV and social media," says Carla.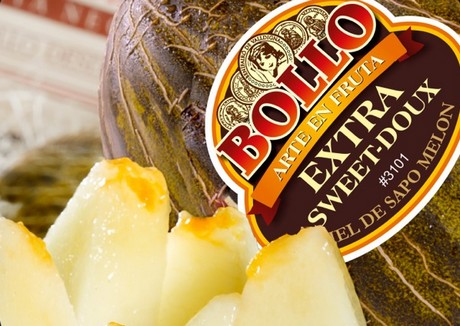 "We are in the fortunate situation that we have the best customers and we are proud that they give us the opportunity to deliver our goods. We try always to adapt to them and deliver what they want in term of product specifications and packaging. The majority of them have been with us for years and our cooperation goes beyond a mere commercial relationship, so really it can be summarized in one word: trust.
Right now we offer more than 125 different types of packaging, so it´s necessary to listen and see what is happening on the market. As Seth Godin says: Don't find customers for your products, find products for your customers!"
For more information:
Carla M. Vercher
Bollo International Fruits S.L.
Avd. de la Valldigna, s/n
46791 Benifairó de la Valldigna – Valencia
trade@bollo.es
www.bollo.es